How to save money while renting a new car in Canada? Insurance tips for car rental in Canada.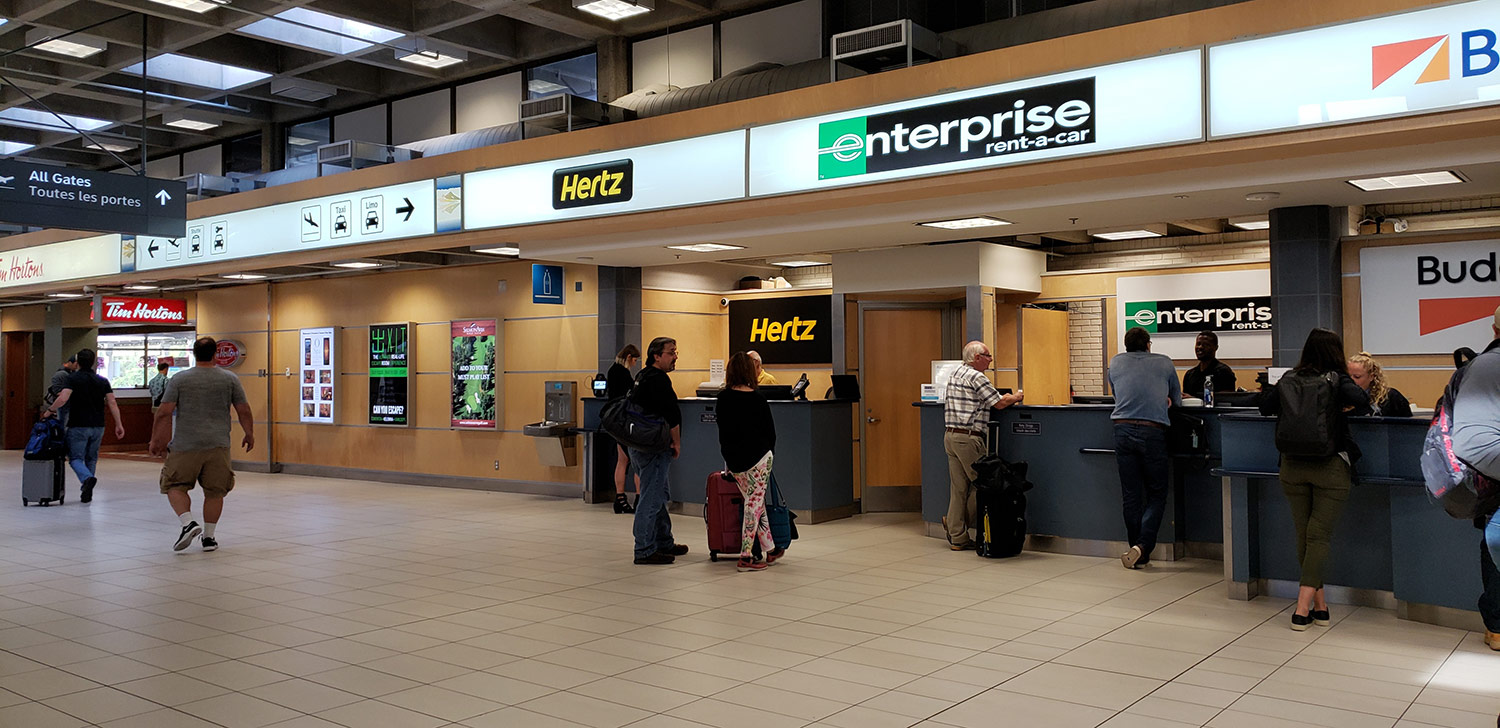 We've all been there before. You get to the front of the rental desk line (finally), "Credit card and driver's license please!"
"Sure, here you go."
Then a series of insurance related questions and explanations ensue, each more confusing than the last. With a slight sense of bewilderment you say, "OK, sure. . . I guess? How much will that cost?" . . ."What!? that's almost as much as the car costs!"
Is rental car insurance worth it?
Suffice to say, rental insurance can be expensive, often up to $30 per day. This isn't to say that it's not necessary ‐ car rental companies are very diligent when it comes to insurance coverage. Many of their products also offer convenience for niche situations such as lost keys and minor damages. If you are forgetful, or particularly accident prone, sometimes it's just best to take the path of least resistance.
However, chances are that you might be over-insured, and are therefore paying too much. It's very hard to figure this out on the spot at the rental desk, but with a little preparation you can save a lot of money on your next road trip. Car rental insurance products fall into three categories:
1) Collision and Damage (Technical jargon is CDW/L ‐ collision damage waiver/loss).
This is the main one. If you crash or damage your car, or it's lost or stolen, someone has to pay for it and that someone is you. Having CDW/L insurance is what saves you from having to pay for this yourself.
2) Third-party insurance (Technical jargon is SLI ‐ supplemental liability insurance).
This one is also very important, but often overlooked. If you crash your car into someone else's and you are at fault, then you will have to pay for the repairs to the other car, too. If it's a bad accident, you are at fault, and you injure other people, then you may also be liable for the other person(s)' hospital bill, and possibly even their loss of income if it's an injury bad enough to prevent them from returning to work. Having SLI insurance is what saves you from having to pay for all of this yourself.
3) Coverage for incidentals (Don't know what the jargon for this is; wouldn't be surprised if there's an acronym floating around out there).
If you have a car at home, and/or you have insurance for your house or belongings, you'll probably be familiar with the concept of a deductible. Yes, the insurance company will pick up the tab (which can be a very large tab indeed) but normally they will want you to pay a deductible out of your own pocket‐money that you will never see again. Not sure why. Maybe it's to make sure you're serious about your claim before you make it, or to deter you from claiming every little chip and scratch, but that's just the way it is. You can think of it as a cost of doing business.
There are lots of varieties of incidental coverage. Often though, they will be for smaller things that are less than the cost of what a deductible would be. E.g. if you lost the keys to your rental car, you could have them replaced at no extra cost (instead of, lets say, $700 to approximate what this might otherwise cost you). Or, if you did damage the car and you did have CDW/L insurance, the deductible will still probably be in the vicinity of $1000. Often, there are incidental insurance packages that will cover the cost of your deductible. I guess you could call it deductible insurance.
This one, in my opinion, is more a matter of personal preference. The things that it insures you for probably aren't going to ruin your life‐but they can be a real buzz kill. Whether you want to "wing it" on this one, I'll leave up to you.
Blah blah blah. . . so what did you say about saving money? Right. . . ok, let's start back at the top and work our way down again.
1) Collision & Damage
This is always offered at the rental desk and, yes, can run you as much $30 a day. You might already be insured and just not know it - (i.e., you don't have to pay anything at the car rental desk and you'll still be insured!). The most common ways to gain "free" car rental insurance through your existing memberships are:
a) Through your credit card
First things first: In order for this to work, you have to pay for the rental car using the same credit card that offers the insurance. How do I know if my credit card offers insurance? Sorry, you're going to have to read a little. You can probably figure it out in 10 minutes, but if you're renting for more than a couple of days, 10 minutes of research could save you a few hundred dollars.
Visit the website of the bank that gave you your credit card. Then look for the page that lists the credit cards your bank has to offer. Look for your card, make sure it's your card (often they have photos of the cards). Click on your card. Usually, somewhere in this part of the website there will be a link to several PDFs with names like "Benefits," "Conditions," "Terms," etc. (I'd start with "benefits" and work my way down the list). Don't get overwhelmed; these documents can be long. Usually, cards that offer car rental insurance also offer free insurance for other things such as travel ‐ which is why the document can be quite long. The trick is to go straight to the car rental insurance section (save your eyeballs by using ctrl+f (PC) or command+f (Mac) on your keyboard ("find on page for android," "Smart Search" bar in Safari for iOS) to automatically search the document for keywords such as "rent," "vehicle," or "car").
Make sure you stay in the car rental insurance section. It's easy to go down the rabbit hole and keep reading into other sections. If you come across a heading for another topic such as travel insurance, stop (unless you want to learn about that too). The paragraphs for other types of insurance can seem similar and therefore applicable, but if you think you're still reading about rental insurance, they can just confuse you.
If you've found that you have an insurance credit card ‐ congrats! Print this document and bring it with you as car rental companies will sometimes ask you for proof of insurance, or otherwise force you to buy their insurance. If you don't have this, you might consider getting a card for this reason. Often, they cost about $100 per year, but if you make that back on your first rental car with insurance savings, gain access to several other forms of insurance (travel insurance, flight-delay insurance, lost baggage insurance), and accrue several hundred dollars worth of air miles while doing so, it can be well worth it! Especially if you travel more than once a year.
The key things to look for here are things such as i) The maximum number of consecutive days you can be insured for (usually a couple of weeks) ii) The amount you are insured for ‐ if you're renting a luxury vehicle or high-end SUV, it might be worth more than what your credit card will cover you for ‐ so you might want to consider sticking with a full size rent a car iii) Whether your card provides for third-party insurance (sometimes called SLI), although most cards usually don't provide this.
b) Through your personal auto insurance ‐ if you own a car at home.
Basic insurance plans often won't cover you for rental vehicle insurance. For example, for residents of British Columbia there are more comprehensive plans offered through ICBC such as RoadStar which do cover this type of thing, among others. The same process applies as described for credit cards. Go to your provider's website, look for your plan, skim their terms and conditions using the search function on your device. If you find what you're looking for, make sure to double check the maximum insurance amount, and whether or not the plan covers third-party insurance (SLI). Often, personal auto insurance does cover SLI. Print your plan and bring it with you as proof of insurance!
c) Private memberships.
Examples of this could be a membership to BCAA, AAA, etc. Same process applies here as described for credit cards. Go to your provider's website, look for your plan, skim their terms and conditions using the search function on your device. If you find what you're looking for, make sure to double check the maximum insurance amount and whether or not the plan covers third-party insurance (SLI). Often, private memberships do cover SLI. Print your plan and bring it with you as proof of insurance!
d) Shop around.
There are lots of websites that will sell this to you prior to your departure, and we're one of them! Through our agency partnership with rentalcover.com we offer a great CDW/L product to all MirrorTrip customers that costs up to 50% less than what you might pay at the rental desk with a $0 deductible. Not a MirrorTrip customer yet? No problem, you can also buy insurance from us here and use it elsewhere even if you're not using MirrorTrip.
2) Third Party (SLI)
Normally, credit cards won't cover this. Coverage for third-party insurance can vary by location. In many parts of the world, such as Europe, this will already be automatically covered in your rental price at no additional cost. In North America, rental companies will always offer this at the desk, normally for a coverage amount in excess of $1 million dollars (sounds excessive, but think about rear ending a Lamborghini and a possible injury lawsuit on top of that) which can be hard to beat.
Strangely, for residents of North America you can't really buy it anywhere other than at the rental desk. Trust me, at MirrorTrip we searched high and low to find a provider for this, but couldn't. I'm convinced it's some sort of conspiracy, like the sports package on cable, or when the weenie people got together with the hot dog bun people and decided to sell them in packet sizes that are mathematically incompatible. No need for a Steve Martin style comedic meltdown just yet though ‐ you may still have some options.
a) If you reside in Europe or the UK, and are travelling to the United States or Canada,
chances are there are many insurance packages available to you to purchase in your home country before you leave ‐ normally much cheaper than what's offered at the rental desk. Carhireexcess.ie and bettersafe.com are examples of companies that provide this.
b) Personal auto insurance and private memberships (e.g. ICBC, BCAA, AAA).
If you are a resident of North America, I would look here first; the coverage amount is likely to be more comprehensive than the next option. As described in the collision and damage section under "credit card" in this article, go to your provider's website, look for your plan, skim their terms and conditions using the search function on your device. If you find what you're looking for, make sure to double check the maximum insurance coverage amount. Print your plan and bring it with you as proof of insurance!
c) Mandatory Government Regulated - varies by location
This is the one that no one tells you about. Most states and provinces in the USA and Canada legally require rental car providers to provide a basic amount of third-party insurance as part of the rental at no additional cost. The amount varies based on region, and can range from quite basic to pretty decent. Here in BC, Canada, we've got it pretty good: this amount is $200k. In other parts of the continent it can be as low as $10,000. I get the feeling that this is mostly to protect local residents from doe-eyed tourists gawking at the sights, bending a local fender, shrugging, and flying home, rather than to protect the aforementioned doe-eyed (and I'm sure otherwise lovely) tourist. Here is a state-by-state list of compulsory third-party coverage amounts when you rent a car in Canada and the USA.
When it comes to third-party insurance, what you decide on will largely depend on your adversity to risk, namely how much you think you need to be covered. With CDW/L, it's more black and white. If you don't have insurance, or your insurance is for an amount that is less than what the vehicle you are driving is worth, then you could find yourself in a very expensive situation. Rental cars are un-familiar and are normally driven on unfamiliar roads with funny- looking road signs and lots of distractions. It's easy to make mistakes when you're driving under a travel fog.
3) Incidental Insurance
Sorry, that's it; I'm all out of ideas other than "shop around" (duh). As with collision and damage insurance, we also sell incidental insurance at MirrorTrip to anyone, including MirrorTrip customers. Our insurance has great feature such as $0 deductible, and no extra charge for an additional driver. My only advice here is that if you're forgetful or accident prone, you should probably just get it. It's normally quite a bit cheaper than CDW/L or Third Party Insurance.
Parting Tips
Don't be stupid (I know you're not!). Insurance contracts are full of clauses and loopholes that might make you feel like they're trying to cheat you, but they all follow the tenets of basic common sense. I.e., if you want to rent a car from a regular provider of rental cars, drive that car as most people normally do, adhere to speed limits, and take reasonable care of the vehicle, you will be fine. If you want to take a Prius off-roading, drift racing, or are trying to re-enact the opening scenes of Fear and Loathing in Las Vegas in a fire-apple red convertible speeding down a desert highway, then there's probably not much point paying for insurance in the first place, as chances are that the insurance company will find a way to not pay your claim, and you'll be left to fend for yourself.
If you're looking to save money on insurance, make sure to always print and bring with you your supporting documentation. Car rental companies (not often, in my experience) can require that you provide proof of insurance. They can't force you to buy theirs, but they can deny you access to their vehicles as is the right of any retailer or service provider ‐ which at the end of an expensive and long flight is pretty much the same as forcing you to buy it.