Road Trip: Portland to San Francisco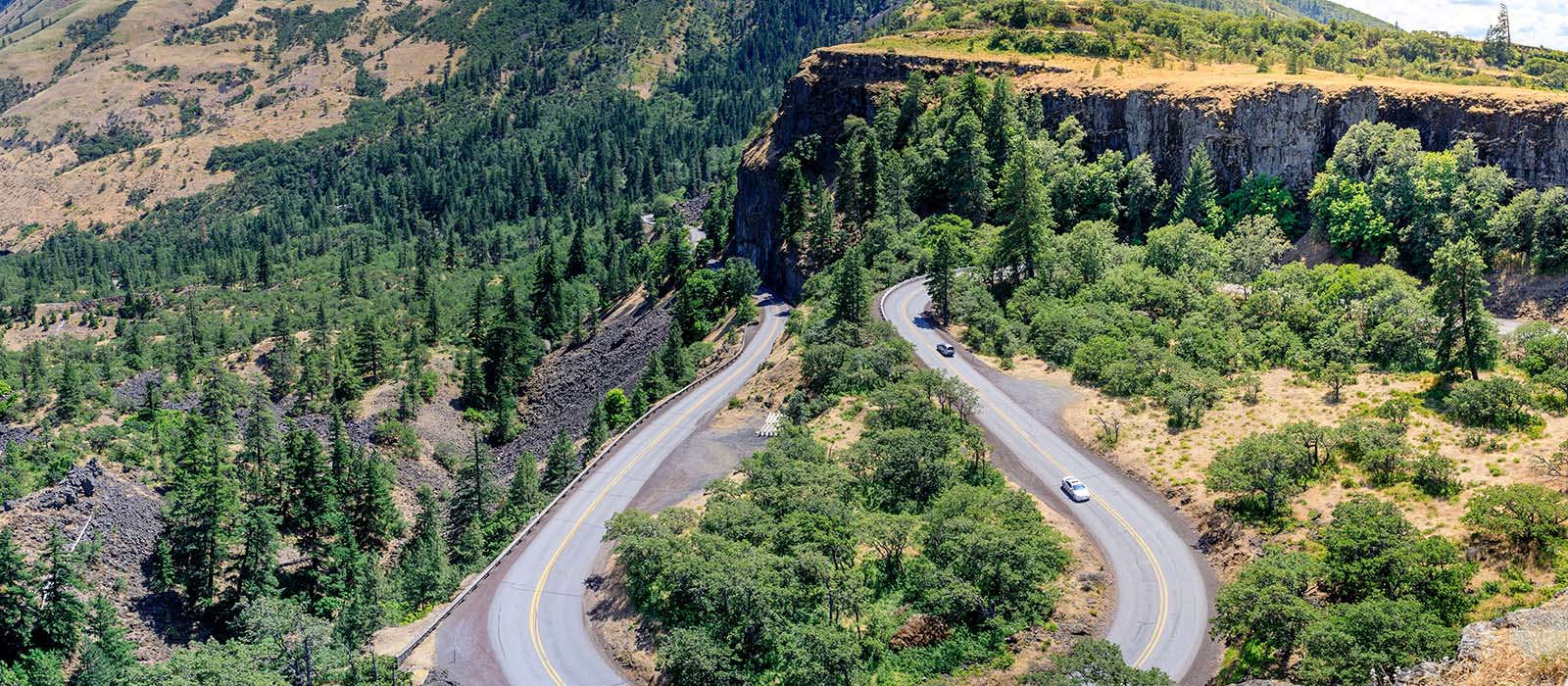 Distance: 930 miles and 18 hours of driving, including side trips.
Span: Two states (Oregon and California)
This is a suggested 'scenic' itinerary for a one-way car rental from Portland to San Francisco, a snaking route along some of the less-traveled highways, to take in what we believe are the most enticing tourist sights between these two cities. As a result, it's going to take some time. The driving alone takes about 18 hours. But you'll be rewarded with some great sights—particularly if your interests lean towards geology and nature in general.
Just eighty minutes and a mere 55 miles south of Portland you will come to Silver Falls State Park, a perfect place to shake off the soot from the big city and begin your return to leisure. There's something about a waterfall that makes you want to stop, take a breath, and pause for a few moments to just gaze mindlessly while listening to the accompanying white noise. And on this park's famous Trail of Ten Falls hike, you'll see exactly 10 falls in as many miles. There are even a few where hikers are encouraged to walk behind the watery curtain to see just how the trick is done.
So why are there so many waterfalls in this small area? It all has to do with the local geology, which features a layer of hard rock overlying a layer of much softer rock. Wherever both layers are exposed to the elements (for example, on a hillside) the softer, lower rock layer erodes more quickly, undercutting the top layer. Any stream happening upon this projecting lip cascades over the edge and, voila, waterfall!
It will take roughly another two and a half hours of driving (132 miles) to reach the next stop on our drive from Portland to San Francisco, Smith Rock State Park. Far inland, this is a much sunnier, drier biome. And like many arid places, it is a more open and craggy landscape dominated by rock. This makes it especially attractive to technical climbers, but the park offers climbs of all degrees of difficulty, some suitable for newcomers to the sport. And if you left your climbing ropes and chocks at home, there are plenty of hiking trails.
Again, the dramatic scenery here invites many visitors at the height of tourist season. If you arrive then, try to time your visit for midweek.
Once you've had your fill of beautiful Smith Rock, it's time to turn south to the city of Bend, which you should reach in just under an hour. This is another mecca for hipster outdoor recreational enthusiasts. Here, you can go kayaking, canoeing, snowshoeing, biking, hiking, paragliding, golfing, whitewater rafting—if it requires a purchase from REI, you can do it somewhere near Bend.
And to slake your thirst after a day's hiking, this city has dozens of craft beer outlets. In fact, Bend boasts that it has the highest number of breweries per capita of any city in Oregon. Should a brewery crawl put you in a mood to spend like a drunken sailor, you can choose to stagger over to the city's Old Mill district, renowned for its boutique shopping.
Trouble at the Old Mill? As an alternative to shopping, there's spelunking in the vast network of caves around the city. This is a great family activity for those who appreciate quiet and confined spaces, and a perfect place to leave the kids. We mean take the kids.
Admission to some caves is controlled by tour companies, which provide a safer, guided experience. But you'll pay for it with some operators charging over $100/person.
The next stop is what, for many, will be the highlight of our road trip, Crater Lake. Another 100 miles down the road from Bend, it will take roughly two hours to drive there.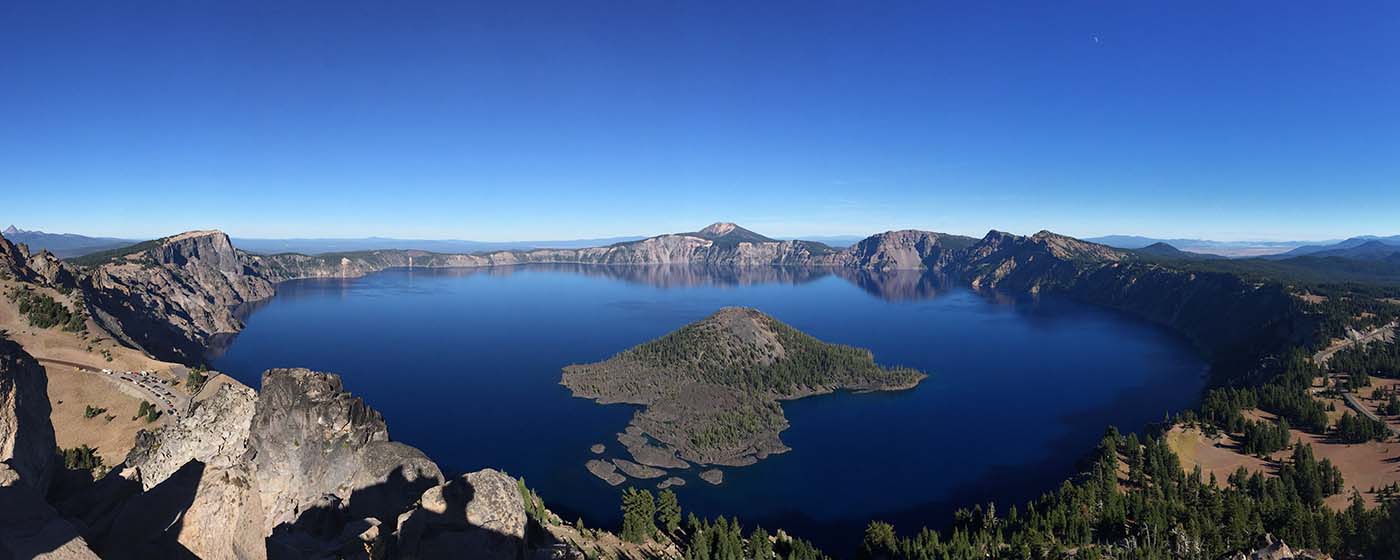 The sight of a vast volcanic caldera over five miles in diameter filled with clear, deep blue water leaves an impression. And when we say deep, we mean deeper than any other lake in the United States. The first step in forming Crater Lake was a massive volcanic eruption that occurred about 7,700 years ago. This caused the center of the volcano to collapse in on itself, leaving the crater rim we see today. Smaller eruptions over the next 3000 years pushed up Wizard Island—the peak rising from the surface of the lake today. Hydrologists guess that it took snowmelt and rain four or five hundred years to fill the crater.
You can circumnavigate the crater by taking a guided boat or trolley tour. These tours are quite extensive, each covering some 33 miles and accompanied by a naturalist to answer all your volcanic lake queries.
For those of you feeling the absence of Crater Lake's once-pointy middle, our next stop on the Portland to San Francisco tour should come as a relief. Mount Shasta comes with its peak intact (at least for now), making it ideal for skiing, hiking, and other outdoor activities. Mount Shasta is an outlier in the Cascade Range, sitting some 15 miles west of its other volcanic peaks.
Something about the mountain's isolation and symmetry seems to have caused a number of strange beliefs to grow up around it. Or maybe it's the way eerie-looking lenticular clouds sometimes wrap themselves around its summit. Whatever the reason, there is a variety of fringe groups convinced that beneath Shasta's slopes dwell everything from lizard people to sasquatches to an ancient race known as the Lemurians. Legend has it the Lemurians migrated to Shasta just before their previous home, an island near Madagascar, sank into the sea.
While we at MirrorTrip are sympathetic to all refugees, we feel compelled to ask the Lemurians: Did your previous choice in real estate not teach you anything about geology?
Next Stop: Eureka, Ca. This town, about 80 miles south of the Oregon border, is the gateway to many natural attractions, but the most notably the Redwood Highway, with its paved roads winding their way through groves of giant sequoia and redwood forests.
The Sequoia Park Forest & Garden includes two main attractions, the Sequoia Park Zoo, which specializes in local mammals living among or in the giant trees. Admission to the zoo also includes access to the Redwood Skywalk, a network of elevated walkways and platforms that threads its way through a grove of trees about 100 feet off the ground. The only way to gain admission to the skywalk is through the zoo, which charges about $25 for admission to out-of-state visitors, slightly less for Californians.
For students of architecture, there's Eureka's historic old town and waterfront. One of this district's main attractions is its many fine examples of Victorian architecture. The premier specimen of this is historic Carson Mansion. Gazing upon this rococo marvel, you'll be torn between envy (only members of the exclusive Ingomar Club are allowed to even set foot on the grounds) and relief (at least you don't have to clean all those gutters).
The next stop on our way to 'Frisco is The Avenue of the Giants. While the Avenue of the Giants is a part of the aforementioned Redwood Highway, we're giving it a special callout. It's located in Humboldt State Park.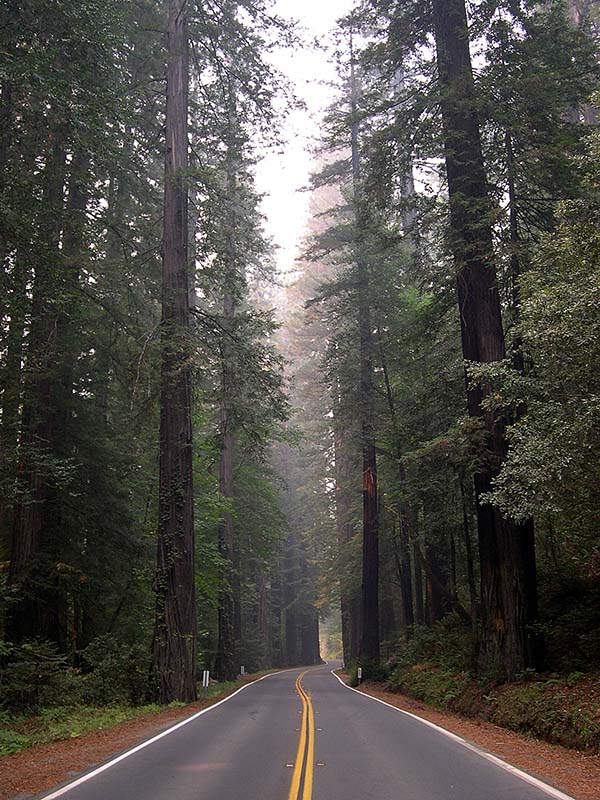 The main attractions here are the towering redwood and sequoia trees. While both giants, the redwood is the taller of the two species. The sequoia, however, is the heavyweight. In fact, sequoias were once considered the largest living organisms on Earth—considerably more bulky than even blue whales. That was before their crown was usurped in the late nineties by, of all things, a fungus. We know what you're thinking: You've seen fungi, and you've at least seen photos of giant Sequoia trees. Clearly, there's no contest. So what are we babbling about?
The thing is, those things you thought were fungi? The mushrooms and toadstools? Those are just the "fruiting bodies," the naughty bits of the fungus. Apparently, the bulk of these organisms consists of a network of tendrils infiltrating the soil beneath the fruiting bodies. In the case of one massive fungal organism (henceforth known as a fungalism), that network covers some 965 hectares of forest. The weight of this single fungalism could be as much as 35,000 tons—about 25 times the weight of the largest sequoia. And it just happens to be in the Blue Mountains range of Northeastern Oregon
We bring all this to your attention to point out that in your haste to take a selfie with what you thought was the world's largest living organism, you may, in fact, have driven right over it—perhaps while on this very road trip.
If that doesn't blow your mind, maybe our next stop will: Confusion Hill, U.S.A. No, this is not some sly euphemism for Congress. Rather, it is one of those tourist traps playing on claims of a gravity-defying locale where cars left in neutral mysteriously roll up a slope. The explanation usually comes down to a nearby (but inaccessible) buried magnetic meteorite or alien spaceship.
It's hard to describe this amusement park accurately, but its mission is probably best summarized by its founder, the late Douglas Eugene Campbell. In Doug's words, "If you leave Confusion Hill more confused than when you entered, then we have succeeded."
Confusion Hill's two main attractions are the Mountain Train Ride and the mind-bending Gravity House. Judging from the photos, we suspect that Gravity House's mystification stems mainly from its having been constructed off-level. Not that we would ever dream of undercutting Mr. Campbell's mission of furthering confusion. As for the train ride, we're not sure what makes it particularly baffling.
It seems you'll just have to experience it for yourself. And with the house's modest admission charge of only $5, it's hard to go too far wrong.
Once your head has cleared a bit and you're able to safely resume your drive south, you will find yourself entering Sonoma County, one of California's premiere wine-growing and vinting areas. The picturesque city of Santa Rosa is a perfect base from which to take a tour. This article lists some of the area's most beautiful vineyards—just in case you're only able to sample their delights with your camera, as opposed to your refined palate. After all, you still have some driving left to do.
And if you happen to be both a cinephile and a wine connoisseur, there's really only one choice: the Coppola Winery, which features not only great scenery and gourmet dining, but memorabilia from films directed by the Godfather of American directors, Francis Ford Coppola.
Sipping fine wines and high-end dining a little bit beyond your budget? Santa Rosa is also home to the far more affordable Charles M. Schulz Museum. Schulz was the creator of one of the most successful comic strips of all time, Peanuts, which rose to popularity when newspapers were still made of newspaper and people pored over them for hours each weekend. But even if you have never laid eyes on a panel of the strip, the T-shirts and coffee mugs branded with its characters and catchphrases were inescapable for about a decade. For those who want to relive those simpler merchandising times, we're just going to take a flier and assume that the museum includes a gift shop.
And if you're unfamiliar with Snoopy, Charlie Brown, and the rest of the Peanuts gang... Good grief. Even more reason to stop off at the Charles M. Schulz Museum.
Our last stop lies on San Francisco's northern doorstep; it's the vast Golden Gate National Recreation Area. As the website for this park points out, the GGNRA doesn't look like most national parks. Rather, it's a patchwork of green and historic spaces north and south of the bridge for which it is named.
A visit to this park might have you taking in an abandoned guided missile site, the Muir Woods National Monument (just in case you didn't get your fill of gigantic trees farther north) or even Alcatraz Island, the historic lodgings for some of America's premier ne'er do wells. And of course, you can take a guided tour of the great bridge itself if you arrive on a Thursday or a Sunday.
The recreational area encompasses shipwrecks, historic lighthouses and land reserves to protect endangered species. There's something here for everyone, which might explain why it's visited by almost twice as many people as the Grand Canyon in a year. That, and its proximity to San Francisco.
Speaking of which, we have officially arrived at our destination. The City by the Bay is now yours to explore.
Data collected from our Price Lab tool suggests that the average drop-off fee charged by all major rental companies for a one-way car rental from Denver to Vegas is $350 USD. Using MirrorTrip for one-way rentals on this route allows you to avoid this typical drop-off fee.
| Pick-up Location | Drop-off Location | Avg. Drop-off Fee | Avg. SUV Drop-off Fee | Avg. Sedan Drop-off Fee |
| --- | --- | --- | --- | --- |
| Portland | San Francisco | $355.14 | $416.96 | $216.34 |
| San Francisco | Portland | $370.97 | $426.49 | $281.37 |
Table showing average drop-off fees charged by top tier rental companies during 2021 and 2022.