Road Trip: San Diego to Las Vegas

For this road trip, we're heading inland from San Diego to Las Vegas. Driving time is about 11 hours. How many days of travel that works out to is up to you, but we think that each of our five tourist destinations in between deserves at least a day to explore.
From start to finish, this is a desert trip. The stops along the way are quiet places, devoid of the sounds of running water, bird song, or even a breeze stirring the branches of trees. If heat and stillness appeal to you, if you hope to see places where life clings to the land while waiting for the next cloudburst, then this is the trip you've been waiting for.
As always, we recommend booking your one-way car rental through MirrorTrip to avoid dropoff fees—the travel planning equivalent of pulling on a boot and feeling a nasty and unexpected sting on the sole of your foot.
Anza-Borrego Desert State Park
The Anza-Borrego Desert State Park lies about two hours' drive east of our starting point of San Diego. To get to the park, you'll be driving through the Peninsular Range of mountains. These mountains are why everything inland from here is desert. Most rain clouds blowing inland from the coast cool and drop their loads before the prevailing winds can push them up and over the mountains.
This is California's largest state park, so there's a lot to see here, starting with the town of Borrego Springs. Here, you can stroll among Ricardo Breceda's menagerie of large metal sculptures depicting the area's prehistoric fauna with some mythical creatures mixed in as well. There are also wildflower gardens to tour.
The Anza-Borrego is best known for its blooms of wildflowers, which splash the otherwise brown landscape with vibrant colors for a few weeks at a time. These blooms only follow springtime rainfalls, which may or may not happen. Once every decade or so, these blooms are particularly dramatic—but there have already been two such superblooms in 2017 and 2019. These higher-than-average rainfalls are unpredictable, however, you can improve your odds of catching a bloom by calling a hotline at 760 767 4684 for an up-to-the-day report on the state of the park's wildflower blossomings. Time your trip accordingly, and may the floral gods be with you.
While less spectacular, the petroglyphs left by the Native American tribes that once lived in the area are much more reliable. Unlike the blooms, their viewing schedule has been carved in stone. Literally. So they're available for viewing 365 days of the year.
One of the best places to see pictographs (figures made with pigment, as opposed to carvings) is on the Pictograph Trail in Little Blair Valley. Many of the enigmatic images left by these ancient artists defy interpretation, which is made all the more difficult by a tendency of the artists to paint their images right over those of the previous artist—sort of like those bulletin boards at the laundromat where people just staple their notices right over the last guy's.
Palm Springs
If, after your visit to Anza-Borrego, you're suffering from desert shock, you can ease into the road trip with one last look at civilization by spending a day in Palm Springs. There's far more to do here than we can fit into this article, but we suggest taking the Palm Springs Aerial Tramway, a two-and-half-mile-long aerial ride in a rotating gondola car offering spectacular views. At the top there are a couple of documentary theaters, a natural history museum, restaurants, and miles of hiking trails.
If you're an art fan, you could check out the Palm Springs Art Museum with its vast collection of contemporary paintings and sculptures. The building housing these works is as beautiful as its contents.
Pee Wee Herman fans will no doubt recognize the Cabazon Dinosaur sculptures, a roadside attraction whose forms are more whimsical than they are anatomically accurate as measured by modern paleontological standards. One of the sculptures, Mr. Rex, is actually larger than life—which is to say very large, as we're speaking of dinosaurs. For a fee, you can even climb an internal stairwell for a view from inside the T-Rex's head—the Jurassic equivalent of the Statue of Liberty tour. The same fee will grant you admission to the dinosaur garden where many smaller dinosaur sculptures roam—some of them animatronic. Again, most of these sculptures were created in the1970s, so take this tour more for the nostalgia value than the education. The dinosaurs are often decked out in seasonal costumes for various holidays and the Christmas Lights display is particularly dazzling.
Our next stop is one of the most well-known national parks of the southwestern United States.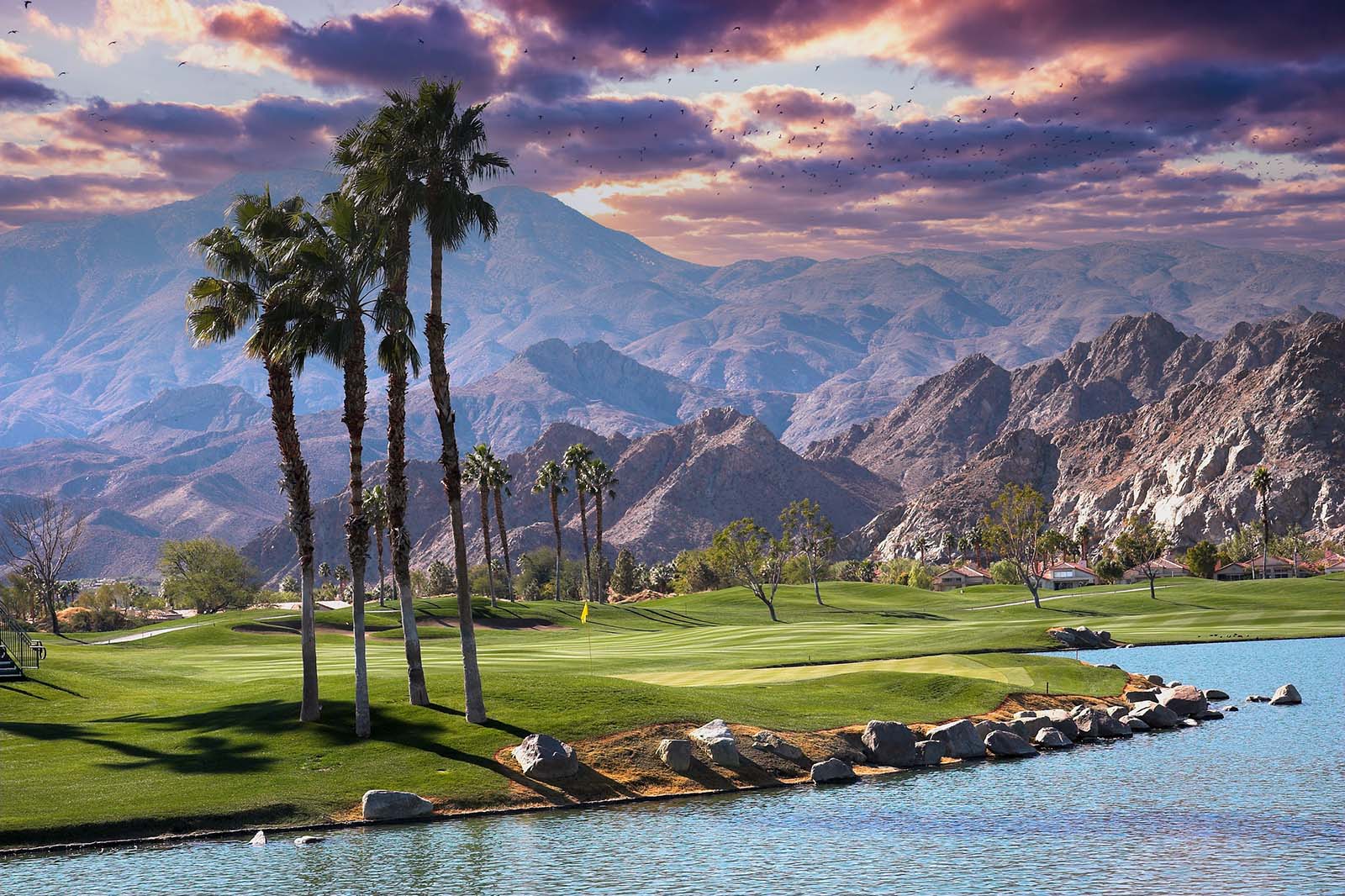 Joshua Tree National Park
The iconic tree for which this park is named is at once alien and familiar. Most Joshua trees consist of fewer than a dozen bristly, grey limbs branching from a central stem. Each branch ends in a mace-like club of spikes--the only green part of the tree. Even if you've never seen one in real life, you may still recognize them as the foreground extras from stock footage of old nuclear test detonations.
"J-Tree," as the park is often called by the locals, lies at the intersection of the Mojave Desert and the adjacent low Colorado Desert. Upon arrival, you may want to start out with a visit to the city of Twentynine Palms, where a Visitor and Cultural center opened in 2022. From there, you can drive up to Keys View for a view of Mount San Jacinto and Gorginio mountain. If from there you hike up Ryan Mountain, you can experience an even loftier view. Quite long by J-Tree standards, it's a three-mile hike (round trip) with a gain in elevation of about a thousand feet—but the view from the top is well worth it.
There are dozens of shorter hikes in the park, many only about a mile in length. These include hikes like the Barker Dam Nature Trail (featuring a rare artificial lake), the Hidden Valley Nature Trail (lots of Joshua trees) and Skull Rock, which is right at the side of the road.
Joshua is also a mecca for bouldering and rock climbing, with over 400 climbing formations and even the Joshua Tree Rock Climbing School which you can enroll in should you decide to take a more formal approach to the sport.
The park is also known for its spectacularly clear night skies, so pack your cable release and a snack and plan to stay out until well after sunset for a breathtaking view of the Milky Way on one of the many clear nights.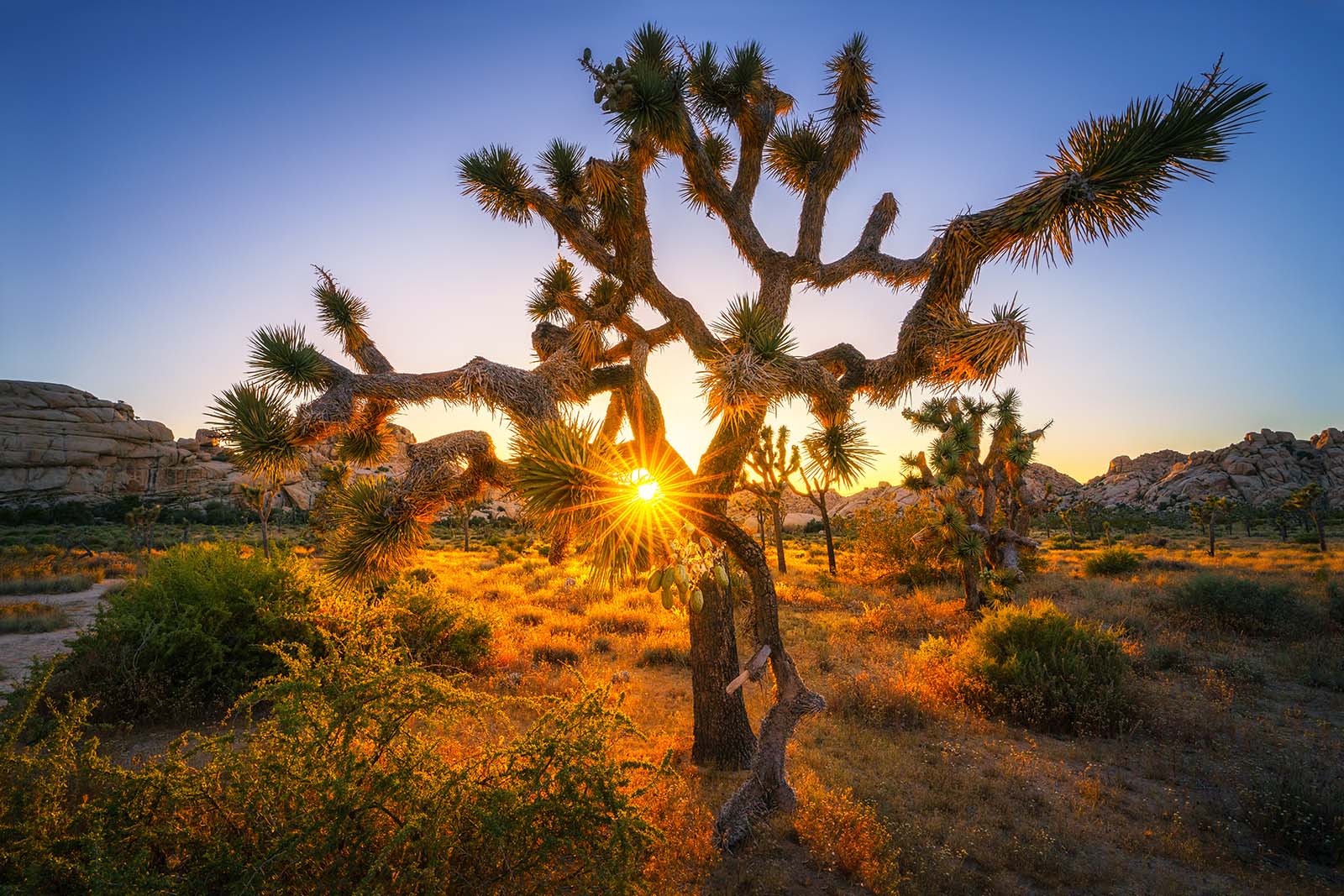 The Mojave National Preserve
Like most deserts, the Mojave National Preserve at first appears devoid of wildlife. While it's true that the total biomass and number of species here are nowhere what it is in more well-watered places, that's also what makes spotting animals here all the more thrilling. Take, for example, the desert tortoise. These reptiles spend roughly 95% of their lives underground in burrows they have dug themselves, sheltering from the scorching hot sun. But particularly after it rains, they venture forth to feed and to mate. Not as abundant as they once were, as a tourist, you nonetheless have a pretty good chance of spotting one.
Should that happen, keep your distance, as they are easily stressed. Stressing a tortoise is a bad idea (for the tortoise) because, like people, they sometimes empty their bladders when frightened. For us, it's merely humiliating. For a desert tortoise, it could mean death by dehydration, as their bladders are where they store excess water when they either come upon it or absorb it through their food. They depend on this water to see them through the dessert's driest spells.
The only occasion when approaching a tortoise is permitted is if you find one crossing the road. If you're driving, stop and wait until it completes the crossing under its own power. If necessary, get out of your car to flag down any approaching traffic and warn them of the situation.
If you're stopped somewhere where that's not practical, approach the tortoise from the front, pick it up from the sides of its shell with both hands, and set it down again about 100 feet from the road in the shade of a bush, if you can find one. If possible, keep your skin from coming into direct contact with the animal, perhaps putting a piece of paper or a garment between your skin and the shell. This is to prevent the spread of a respiratory disease to the tortoise, which is probably the principal cause for the decline in their numbers over the past 20 years—though no one really knows for sure.
If you're looking to take a break from helping turtles across the road, you may want to visit Kelso Dunes, the park's most popular destination. It's a short but strenuous hike from the parking lot to the top of the tallest dune. While it's only three miles long, the difficulty stems from walking on loose sand, which is a lot of work--especially when you're climbing.
One of the main attractions of the preserve has traditionally been its high concentration of Joshua Trees—in fact, it once had more of these trees than Joshua Tree National Park. Unfortunately, over 1.3 million of the trees were consumed by fire in the summer of 2020 when a lightning strike started a wildfire. Traditionally, fires in true deserts are not a problem because there is so little vegetation to burn. Unfortunately, in recent years, invasive grasses growing in the park supplied so much tinder that the fire was able to spread from tree to tree. So, if you do decide to visit, temper your expectations.
Heading to our next stop means temporarily veering away from our ultimate destination of Las Vegas, but it's worth the detour. For many, this next desert will be the highlight of the trip.

Death Valley National Park
We're guessing that no one consulted the local chamber of commerce when Death Valley was named. With garden spots like Chloride City and Badwater, it seems more like the title of a Mel Gibson revenge flick than a suitable name for a national park. And yet, millions of tourists flock here every year, especially during the winter months.
The drama is not without justification, as Death Valley has held the record for the highest temperatures on Earth since 1913. The exact spot was the invitingly named Furnace Creek Ranch, where one afternoon in late June the temperature reached 56.7°C, or 134°F. We don't know what animals they raise at Furnace Creek Ranch, but we can only guess that their meat is sold conveniently pre-barbecued.
The park's main attraction (apart from its more comfortable winter temperatures) is its Sahara-like sand dunes. Unlike most other deserts in the American southwest, this one has locations where great windblown hills of sand march across the landscape, just like in the movies. Some good spots to explore sand dunes are the Ibex Dunes, (southeast corner of the park), the Mesquite Flat Dunes (almost dead center of the park) or the more remote Eureka Dunes to the north. Sand boarding is prohibited at Eureka and Mesquite Flat dunes, so if that is the main attraction that dunes hold for your visit, plan accordingly.
But there are also rocky desert landscapes that park visitors find equally photogenic, such as the badlands of the famed Zabriskie Point. These branching "toes" of rock were clearly shaped more by water than wind, and they're particularly beautiful at sunset and sunrise, when the slanting rays of the sun emphasize their dramatic forms.
For those who love a mystery, a visit to the Racetrack Playa is a must. For reasons only recently discovered, boulders--the largest as big as a riding lawnmower--occasionally move across an almost dead-level landscape. For a century, scientists and amateur sleuths have speculated as to how this happens. They saw long trails in the sediment behind these boulders, clearly indicating that they had moved, but no one had ever witnessed the phenomenon.
Recently, a trio of scientists have come up which a theory supported by video and GPS evidence of some of the rocks moving a few meters. It appears that the boulders can "sail" when rain floods the playa to just the right depth (just two or three inches) followed by a freezing, windy night. A thin layer of ice forms on the water, then is broken up into plates by the wind. These wind-blown plates then pile up around the rocks and drive them—often in concert, but sometimes singly—across the shallow lake bed. A few days later, the temperatures rise again and the ice plates melt, leaving no clue as to what pushed the rocks along.
Unfortunately, Racetrack Playa is not easy to reach without a four-wheel drive vehicle, so plan to rent or bring your own if you want to check out the site of this mysterious phenomenon. Just know that the chances of actually seeing anything but the aftermath of the sailing rocks are pretty much zero.
About an hour and 40 minutes after leaving Death Valley Junction, you should reach our destination, the Las Vegas strip. If you find yourself still thirsting for the desert and with time on your hands, we highly recommend a day trip north and east of the city to The Valley of Fire State Park. Because the Valley of Fire is only an hour's drive from Vegas, we also recommend arriving early in the morning if you want to beat the winter crowds.
Even crawling with tourists, the park still offers spectacular landscapes with its pink- and orange-striped rock formations. The names of the most popular destinations within the park hint at the weird shapes and colors awaiting you: Elephant Rock, Mouse's Tank Road, Pink Canyon, and The Fire Wave. Warning: This last attraction may be closed on the hottest summer days. Almost the entire walk is over bedrock exposed to direct sunlight, so it becomes dangerously hot when the temperatures reach seasonal highs.
Many of the park's most spectacular views can be taken in right from the roadside or require a hike lasting less than 10 minutes—another reason for the park's popularity! It's a great way to finish off your road trip before heading back to Las Vegas and whatever corner of civilization you started out from.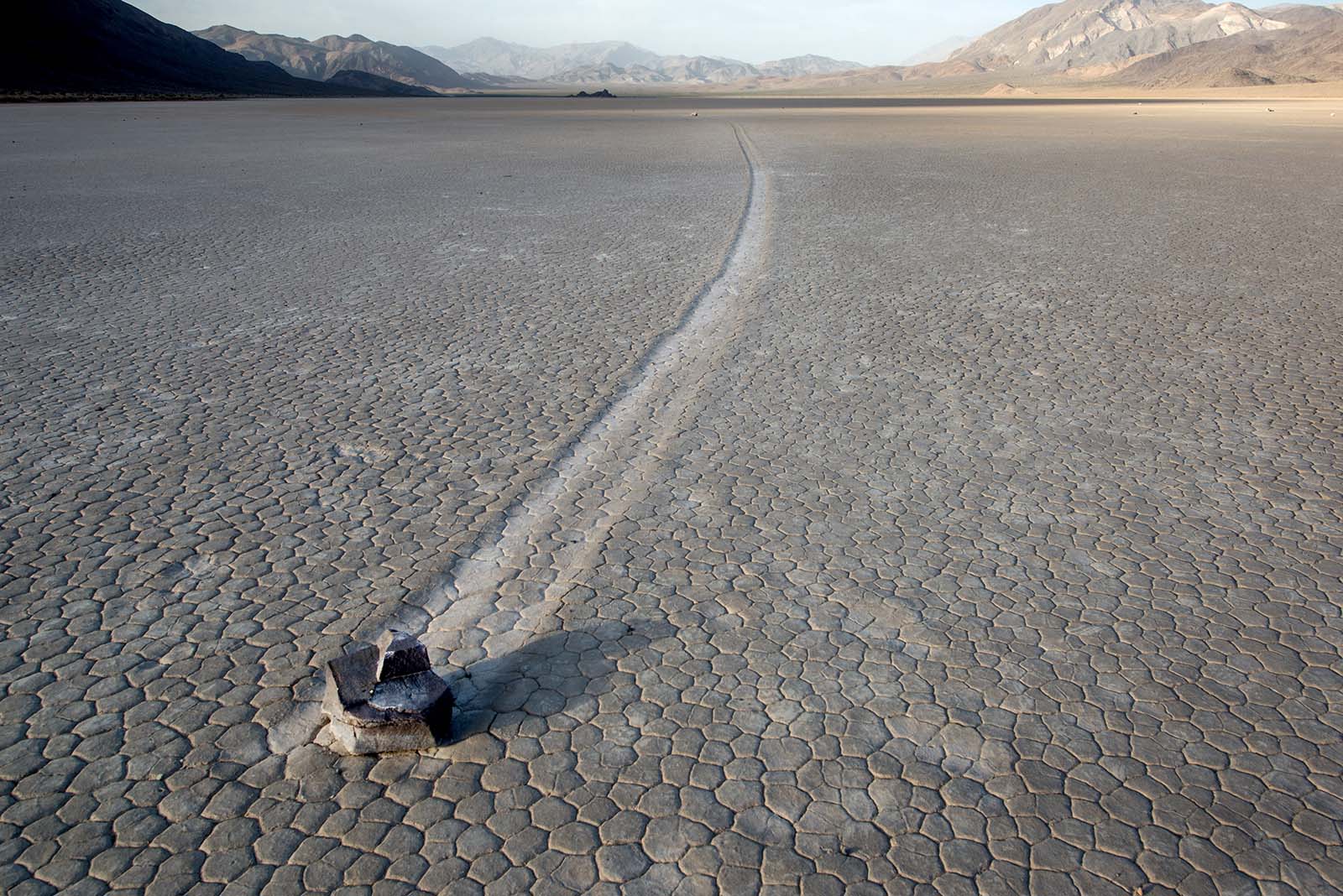 | Pick-up Location | Drop-off Location | Avg. Drop-off Fee | Avg. SUV Drop-off Fee | Avg. Sedan Drop-off Fee |
| --- | --- | --- | --- | --- |
| San Diego | Las Vegas | $306.62 | $337.65 | $237.70 |
| Las Vegas | San Diego | $292.68 | $360.53 | $205.08 |
Table showing average drop-off fees charged by top tier rental companies during 2021 and 2022.