Road Trip: Seattle to Portland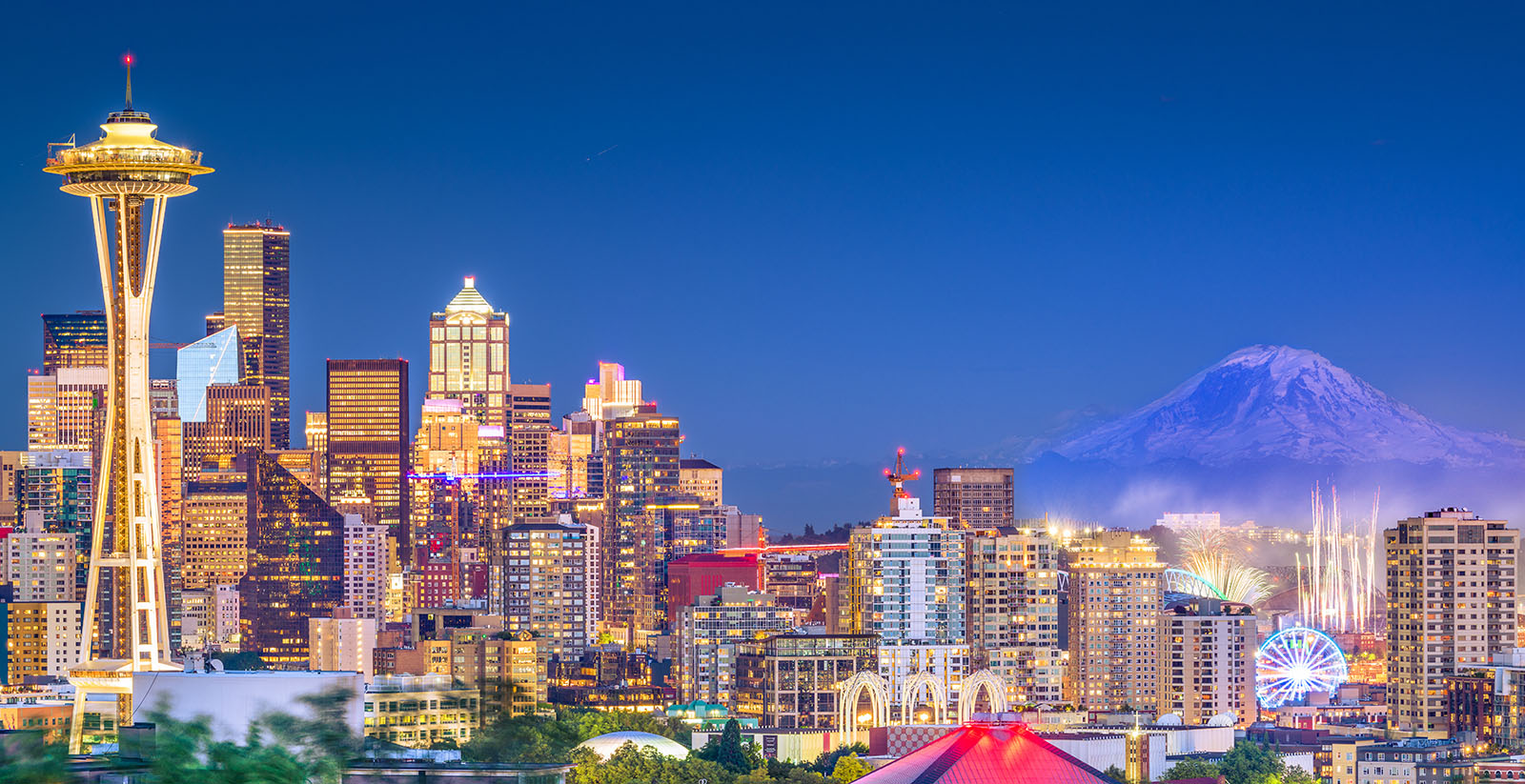 Distance: 437 miles and 9 hours of driving, including side trips.
Span: Two states (Washington, Oregon)
We're headin' down the highway from Seattle to Portland, and we're taking the long way to get in all the best tourist stops. It may not be efficient, but it's way more fun. The total driving time is about nine hours, or 440 miles. If you're in a hurry, you can skip the coastal leg of the trip to save almost a third of the driving—but that will, of course, mean missing the fabulous Oregon Coast.
Our first stop is just 45 minutes out of Seattle on the outskirts of Tacoma: Point Defiance State Park. The main attraction here is the park's extensive zoo and aquarium, but there are also beaches, trails, and the nearby Fort Nisqually Living History Museum. Fort Nisqually was originally a British fur-trading outpost that later became a farm and homestead.
If you sometimes find visiting a zoo less than uplifting because you're troubled by the thought that it must seem more like a prison for the animals, the Point Defiance Zoo has come up with an ingenious compromise. Their dozen or so star residents—which are mostly mammals whose natural habitat is the Pacific Rim—are continually rotated through five different natural-looking Asian Forest enclosures.
Each morning, the large mammals, which include a tiger, snow leopard, tapirs, an elephant and a porcupine, are coaxed and shunted through a series of connecting corridors leading the animals to a fresh habitat. It's a time-consuming operation for the zookeepers, but it gives the animals a much more varied and satisfying life than they would experience if they were just staring at the same surroundings every day.
The next stop on our tour is Olympia, the capital city of Washington state. Not likely the city that first came to mind when you heard the word "capital," is it? Downtown Olympia is stuffed with historic buildings—many of them designed by California-born architect Joseph Wohleb. Wohleb was just 23 years old when he arrived at the state capital and began putting his imprint on the city by designing everything from industrial buildings to theatres to the county courthouse.
You can find a self-guided walking tour that includes much of Wohleb's work here.
If architecture and history aren't your thing, you could always try "The Big W," a walk that will take you along the city's scenic waterfront at the head of Budd Inlet.
There's also the Olympic Flight Museum featuring some 20 vintage aircraft—including helicopters fighter planes from World War II—but it's only open on weekends. The Farmer's Market is somewhat more accessible, with hours from 10am to 3PM, Sundays through Thursdays, April to October.
Another 30 miles south down the road, we come to Mount Rainier National Park—one of the earliest of America's scenic wilderness areas to be designated a national park. Naturally, you'll catch sight of the mountain for which the park is named long before you get there. At 14,410 feet, the peak of Mt. Rainier is the highest point in Washington. Once you arrive at the park, you'll find a hiker's paradise, filled with scenic vistas visible from dozens of hiking trails, at all levels of difficulty.
The higher you go, the later the wildflowers bloom, but peak alpine flower season typically runs from mid July to mid August, depending on elevation and when the snow has melted from the ground.

Another hour-and-a-half and about 85 miles further into our road trip, we reach the Mount St. Helens Visitors Center. While Mount St. Helens might not be as scenic as Rainier, St. Helens has the excuse of still being under renovation. In May of 1980, the designers decided to tear down the top third of their original mountain and start over again. But the eruption was not the kind you see in videos of Hawaiian volcanoes spewing rivers of molten lava.
The Mount St. Helens eruption was even more dramatic. After months of smoke and ash venting from the volcano's vent, a moderate earthquake triggered a landslide—perhaps the largest in recorded history. In film of the event, the entire north side of the mountain bulges, seems to liquefy, and then slumps into the valley below about a second before the freshly exposed flank of the mountain explodes, sending some 3.4 billion cubic yards (about .63 cubic miles) of rock into the air.
During this explosion, a good portion of the mountain simply departed in what is called a pyroclastic flow, a fast-moving cloud of ash, steam, sand, rocks, and blobs of molten lava. This cloud rolled down the base of the mountain at speeds up to 400 miles per hour. In a matter of seconds, it leveled the forests north of Mount St. Helens and then buried them in a layer of pumice anywhere from 33 to 640 feet deep.
Fortunately, the volcano has calmed down since then. Geologists gave plenty of warning of the 1980 eruption and continue to monitor the mountain today. They assure us it's perfectly safe to visit. And if you do, you'll see a landscape still recovering from one of the most dramatic moments in recent geologic history.
The Mount St. Helens Visitors Center tells the story of the volcano in detail for those keen to learn more. It's a great way to get the most out of a hike through the refurbished landscape.
After heading back to I5 from the volcano visitors center, it's just a straight one-hour shot down the interstate to Portland. But where would the fun be in that? Instead, we're turning west at the town of Longview to cross over the Columbia River and make a break for the coast.
After driving for about an hour and twenty minutes, we should arrive at the mouth of the Columbia, where you'll find the historic city of Astoria. Astoria was founded in 1811 as Fort Clatsop, which members of the Lewis and Clark expedition built to shelter in over a rainy winter before starting their return journey the following spring. A few years later, the name was changed to Fort Astoria, and eventually, just Astoria. This makes Astoria Oregon's oldest permanent settlement. Today, you can visit a replica of the original fort in the city's historic downtown area.
Another popular tourist attraction to see while visiting Astoria is the Astoria Column. This tower was built in 1926 for the sole purpose of providing a lookout point for tourists and residents. The tower itself is 125 feet tall, which would have been impressive enough at the time of its construction. But it stands atop a 600-foot hill, giving it a commanding view of the mouth of the Columbia River. You will have to climb all 164 steps of the spiral staircase to reach the viewing platform, as there is no elevator. Almost as impressive as the view from the top is the mural winding its way up the outside of the column.
As you might guess with a town this old, Astoria is full of historic architecture.
Driving south again from Astoria, in about three-quarters of an hour you will reach Cannon Beach. With its iconic Haystack Rock, this town and its surrounding beaches are the stalwarts of coastal Oregon picture postcards. I know what you're thinking:, Since the advent of the selfie, who sends postcards anymore? No one. And who would still be happy to find a postcard in their mailbox? Everyone!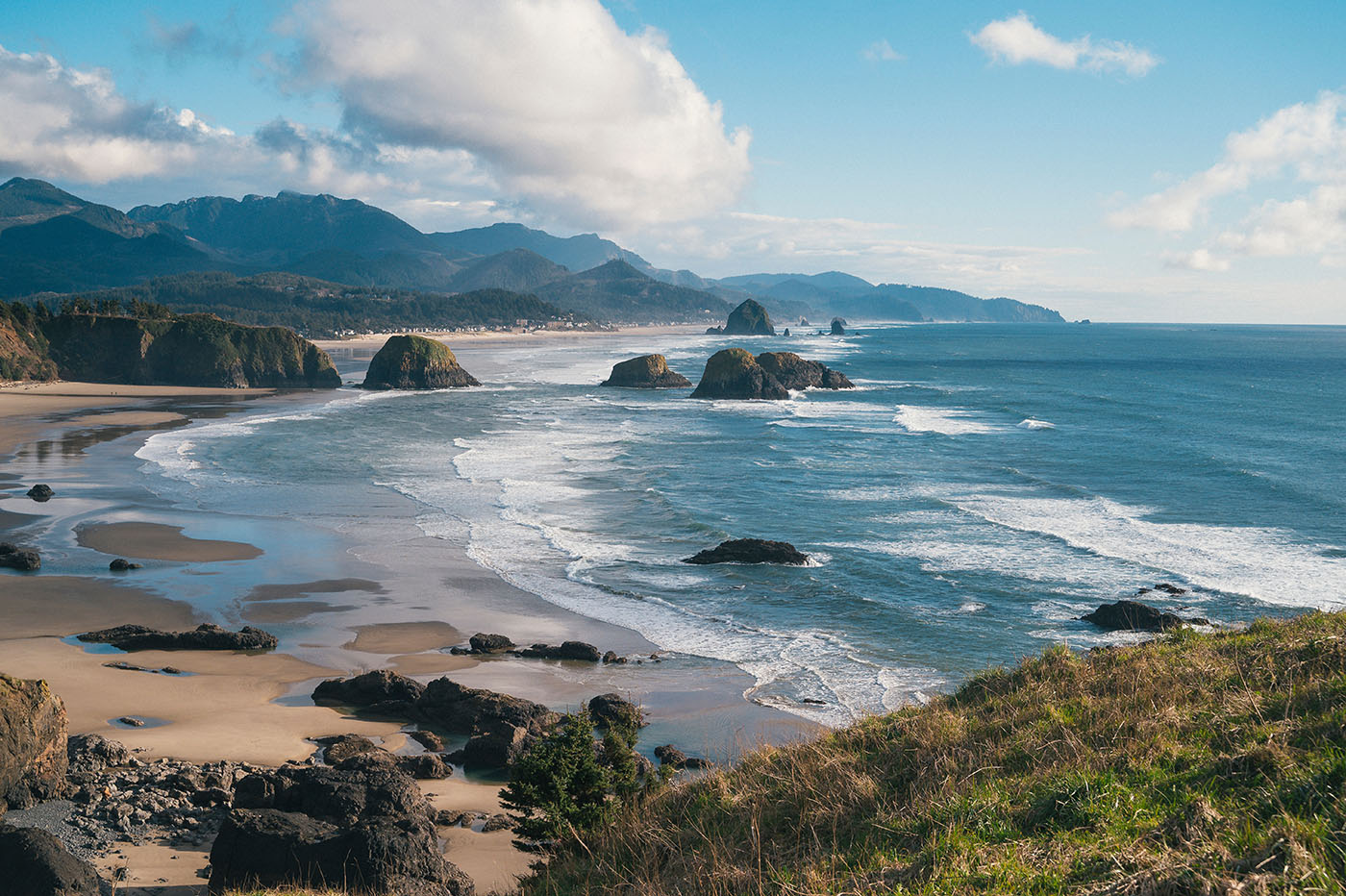 Some believe that there is no more beautiful beach on the West coast, so leave enough time to take a long walk—at sunset, if you can possibly arrange it. Before sundown, you can explore the caves at Hug Point or visit Icefire Glassworks to browse the beautiful art pieces made by local glass blowers.
Our final stop before Portland is the town of Tilamook, an hour's drive and a further 40 miles down the coast. The number one tourist attraction in Tilamook is undoubtedly Tillamook Creamery, where the company first made its now famous cheeses, butter, ice creams and other dairy products.
There's a very slick visitors center filled with fun and informative activities for the kids. There, they'll learn all about the fascinating journies taken by dairy products from cow to store. And of course, there are treats for everyone including cheese and ice cream samples. The visitors center greets an average of 10,000 visitors every day, so it's no small attraction.
Some other sights in Tillamook are Cape Lookout State Park for an essential West-Coast experience—just in case you missed it in Cannon Beach. There are several miles of hiking and walking trails that thread in and out of the old-growth forests bordering the beach.
The home stretch on our road trip is Tillamook to Portland, about one-and-a-half hours of driving East on Highway 6. Admittedly, there aren't many developed tourist sites, but much of this road takes you through the beautiful Tillamook State Forest. If you're especially keen, you can stop at the Tillamook Forest Center, about 22 miles into this last leg, to learn more about the natural history and ecology of the forests of the Pacific Northwest. It's the largest forestry interpretive center in the region.
If you're equipped for spontaneous camping, there are not only several non-reservable campgrounds along Highway 6, but endless opportunities for what is referred to as "dispersed camping"—which, loosely translated, means Bring Your Own Water.
While rougher than camping in a government or commercial campground, it's also a wonderful opportunity to stake out a last piece of solitude before reaching the big city and the final destination of our Seattle to Portland road trip.
Data collected from our Price Lab tool suggests that the average drop-off fee charged by all major rental companies for a one-way car rental from Seattle to Portland is $286.87 USD. Using MirrorTrip for one-way rentals on this route allows you to avoid this typical drop-off fee.
| Pick-up Location | Drop-off Location | Avg. Drop-off Fee | Avg. SUV Drop-off Fee | Avg. Sedan Drop-off Fee |
| --- | --- | --- | --- | --- |
| Seattle | Portland | $286.87 | $354.87 | $161.76 |
| Portland | Seattle | $253.28 | $333.08 | $134.86 |
Table showing average drop-off fees charged by top tier rental companies during 2021 and 2022.