Tourist Stops on a Road Trip from Denver to Las Vegas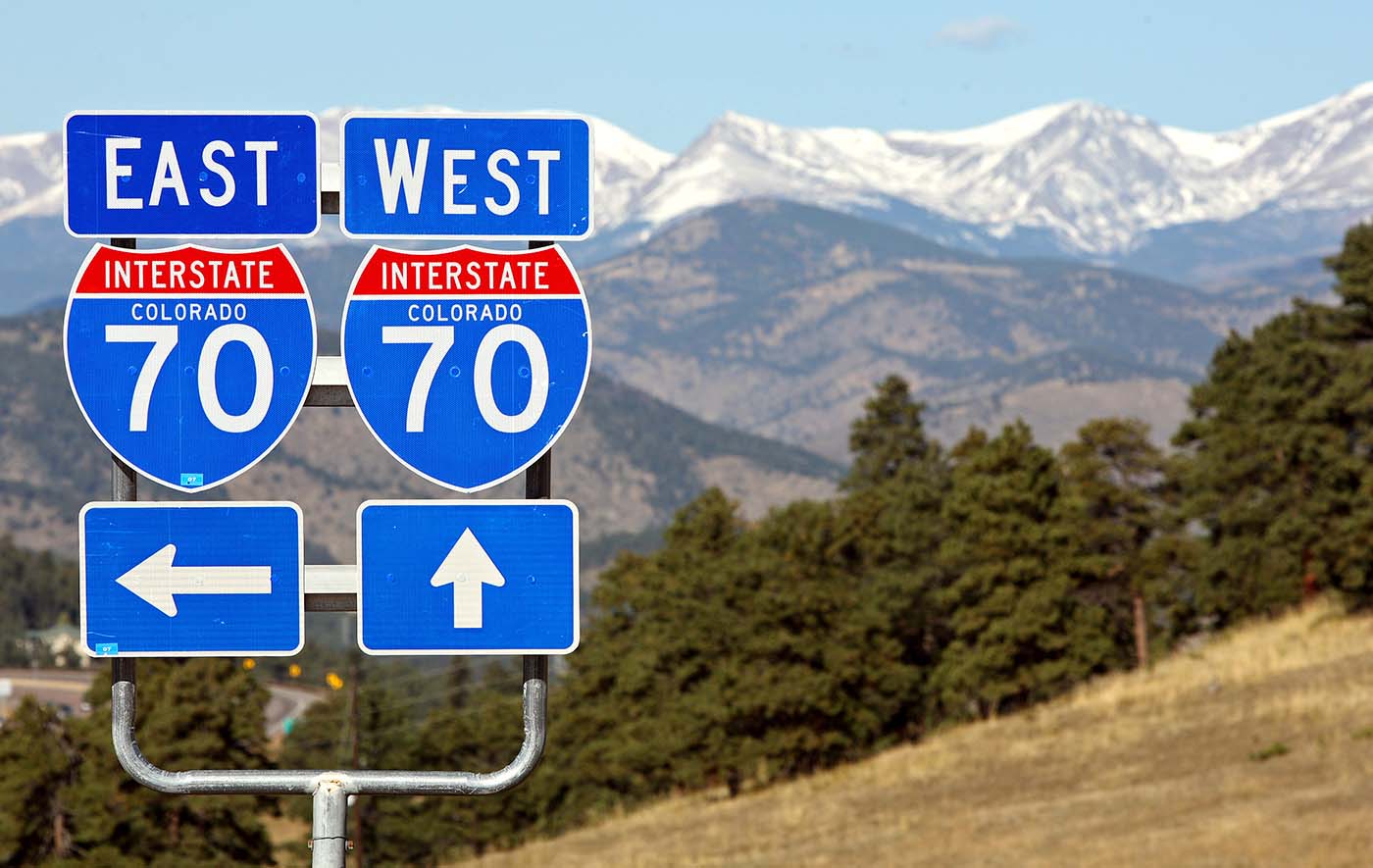 Distance: 940 miles and 15 hours of driving, including side trips.
Span: Four states (Colorado, a chip off Arizona, Utah, and Nevada)
If you are planning a one-way car rental, there are a few routes you might take when driving from Denver to Las Vegas, but this article covers some tourist highlights along the more northerly path, mainly I-70 and Highway 15. The high road, so to speak. We tried to space our tourist destinations as evenly as we could, and failed miserably. In particular, we apologize for the amusement gap of nearly five driving hours between what may well be the trip's two greatest attractions: Arches and Zion National Parks in Utah. Think of this as a driving day.
We begin in Denver, Colorado. Once you've cleared the city limits, the temptation might be to put some miles on the odometer before making that first tourist stop. But if you do that, you'll miss The Buffalo Bill Museum and Gravesite. This is the place to learn all about William F. Cody, a hero—or villain, depending on your viewpoint—of the American West. Cody is famed both for his exploits as a military scout, courier, and hunter as well as his travelling Wild West show which followed. Cody's band of trick riders, sharpshooters and actors thrilled audiences in Europe and North America long after the west was won.
Yes, the museum is a mere 12 miles outside of Denver, in the town of Golden, but until you make that first tourist stop, you haven't really started your vacation, have you?
The official website of Bill Buffalo describes his final resting place, in beautiful Lookout Mountain Park, as "the one and only grave of William F. (Buffalo Bill) Cody"—a claim that might be considered superfluous. Still, it's reassuring to know that with over 400,000 visitors to greet annually, Bill is all there.
Having gazed upon the actual grave, there are still hiking trails with outstanding views and the museum itself to take in.
The second tourist stop on our Denver/Las Vegas run is the Georgetown Railway Loop at about mile 46 on our road trip. This one is for fans of historic mining and railroading. The highlight of this stop is a scenic ride on a narrow-gauge railway through the Colorado Rockies. The train may or may not be pulled by a vintage steam locomotive. Not surprisingly, century-old steam locomotives need to spend a fair bit of their time in the roundhouse under repair, and the alternative is a diesel electric engine. Either way, the views are stunning.
Like the steam engines, roofs on the coach cars are optional, so dress for the weather. The train ride itself lasts about 75 minutes, but there's a stop on the loop where you have the option of debarking for a tour of an abandoned silver mine. And you don't have to worry about the weather for the mine tour. Once you're underground, it's a dependable 40°F all year round.
You'll also be given a chance to do some gold panning, but we wouldn't count on it funding your trip.
Our next tourist stop is another 54 miles west on I-70, putting us at close to 100 miles out of Denver. This is Vail, site of one of the Rockies' best known ski resorts. If you ski or snowboard and are travelling during winter or early spring, the attraction of this stop is obvious.
Off season, there's still the endless selection of high-end shops and restaurants with windows you can at least press your nose up against. And of course, there's always the free network of scenic hiking and mountain-biking trails to explore, once the snow finally leaves the ground.
The next stop on our Denver to Las Vegas run is Glenwood Springs, Colorado, home to two major tourist activities—and they could not be more different. For those looking to calm their jangled nerves after a day of highway driving, you can take a soak in the Glenwood Hot Springs Pool. At over one million gallons, it's the world's largest hot springs pool. It's so big that it includes an area for swimming laps! Think of the time you'll save, getting in your workout and relaxing hot-tub soak at the same time. For the kids, there's a hot-water splash park complete with inner-tube rides down a winding flume.
If all of this isn't enough for you, note that Buffalo Bill once took in the spring's healing waters. That he died only a week later is almost certainly a tragic coincidence.
For tourists eager to get the adventure part of this road trip well and truly underway, Glenwood Springs is also home to Glenwood Caverns Adventure Park.
Here you'll find a thrilling assortment of amusement rides, each made extra frightening by being perched on a mountainside. Hence, the park's tagline, "America's only mountain-top theme park." There's a pendulum ride perched on a mountainside, a parachute ride perched on a mountainside, and a roller coaster perched on a mountainside. There's also a mine-shaft drop ride.
If frightening yourself with the prospect of being pitched over a cliff is not your thing, there's always the park's cavern tour. Still too scary? Have no fear, the caves are advertised as "well-lit." After all, who wants to explore some dark cavern?
Speaking of scary, the next stop on our way to Las Vegas is the ghost town of Cisco. Yes, we have left Colorado behind. Like a sentinel who refuses to abandon his post, this former cattle town waits to greet visitors to the beehive state.
Cisco began in the 1880s as a saloon and water station. The water station was built to slake the thirst of the steam locomotives chugging through the region. Presumably, the saloon was built to slake the thirst of the engineers driving the steam locomotives. Later, stores and hotels sprang up to service the cattle and sheep ranchers that flocked to the surrounding grasslands. But when diesel engines replaced steam locomotives, the need for the trains to stop in Cisco ceased. Once construction of Interstate 70 was completed, even road traffic began to bypass the town, and its fate was sealed.
While anything but scenic, there's plenty for students of economic history and photographers of sagging buildings to take in. But even Cisco's future as a ghost town is now imperiled. An artist purchased the entire town in 2015, and has gradually been turning it into an artist's enclave ever since. It's already dotted with some very civic murals and sculptures.
The moral of the story? See Cisco soon, before the ghosts are all driven out and civilization returns to the town.
Next stop on our way to Las Vegas takes us on a diversion of some 30 miles down highway 191 to Arches National Park. Here you will find some two thousand natural rock arches. If this prospect doesn't excite you, think of them as rainbows of stone.
If you're still under the impression that rock arches can't be exciting, think again. On the morning of September 1, 1991, a park visitor was granted a rare glimpse of geology in action. Michael Müller heard ominous popping and cracking sounds coming from one of the park's best known attractions, Landscape Arch. He raised his video camera to his eye and a few minutes later recorded a large slab of rock plummeting to the ground.
On a summer night In 2008, the entire middle section of Wall Arch came down, leaving only a pair of horns.
We at MirrorTrip take these incidents as a gentle reminder that Arches National Park is another limited-time offer, and recommend you visit at your earliest opportunity. Arches are standing by for your selfie-taking pleasure, but they're not going to wait around forever.
Having successfully dodged any falling arches, you may want to drive just a little further down 191 to visit the city of Moab, the recreational hipster capital of the United States.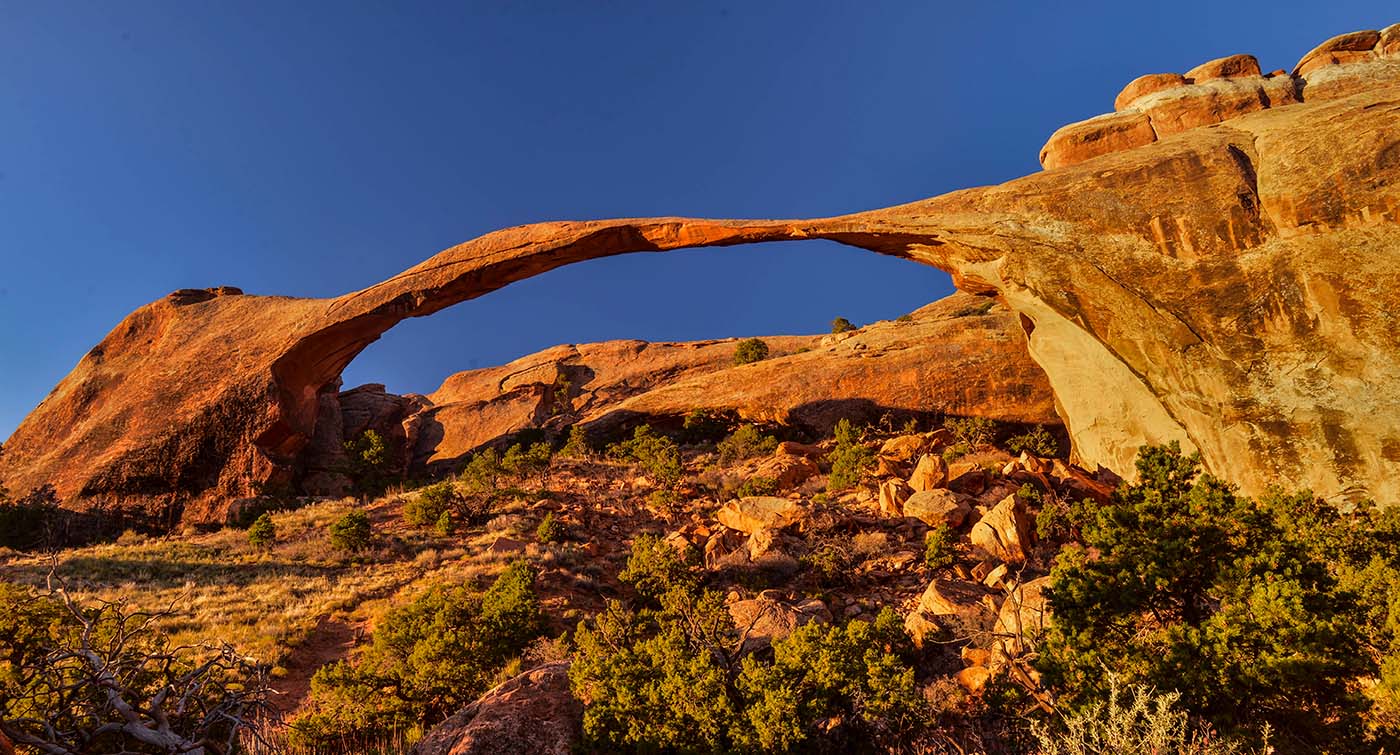 Our last stop in the state of Utah is Zion National Park, and for many, this will be the highlight of the trip. There are, of course, mountains to scale in Zion such as Angels Landing, one of the most popular hikes in the United States. While the trail starts out as a broad stone walkway, don't be deceived. This is not an undertaking for the shy of heights. As hikers near the summit, things get a little hairy, and they must cling to a heavy chain as they make their way along the crest of a narrow ridge of rock.
But what really makes Zion a gem of the national parks system is its many breathtaking views from the valley bottoms. The dramatic way in which the mountains soar above the park's river beds, framing your snapshots in Utah's famous red rock, is something to behold.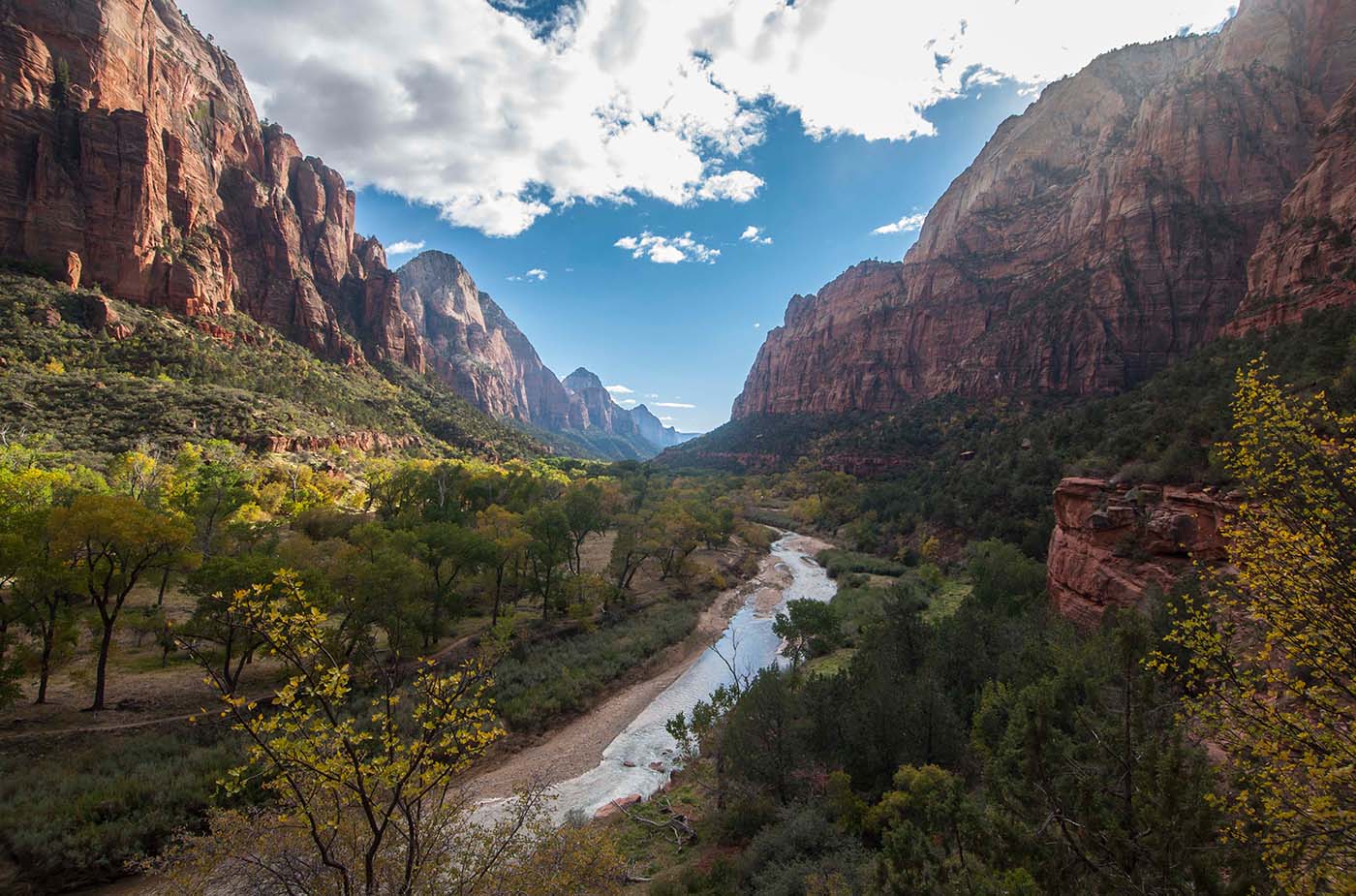 For visitors looking for something truly out of the ordinary, try hiking The Narrows. Most of this "hike" is spent wading along the bed of Virgin River, whose banks stretch from one wall of a narrow slot canyon to the other. There's no way to do it without getting soaked to the thighs, but the water is not too cold, even in winter. In places where the canyon widens out a little, there are plenty of gravel beds and monoliths to climb out onto if you do become chilled. A walking pole or staff and a pair of old runners—or at least runners you don't mind getting wet—are mandatory.
After Highway 15 cuts off a corner of Arizona (nothing to see here, unless you count The Grand Canyon, The Petrified Forest, or the entire city of Phoenix) we arrive at our destination state, Nevada.
Shortly before reaching the town of Moapa, turn south onto highway 167. After traveling for roughly an hour and a half, we come to our last stop before Las Vegas, Lake Mead National Recreation Area. This vast lake is a patch of blue against the desert, made all the more striking by its sections of steep, solid-rock shoreline. It's unnatural looking for good reason: It didn't exist before the early 1930s, when the Hoover Dam was wedged into the canyon at its western end and the river began filling the branching valleys behind it. Over the last 20 years, an ongoing drought has lowered the surface of the lake by almost 150 feet, exposing a band of white gypsum around much of the shoreline.
Lake Mead is popular with recreational boaters and fishermen but also, surprisingly, scuba divers who come to visit a couple of sunken planes, including a vintage B-29 Superfortress bomber that crashed into the surface of the lake in 1948. Due to an instrument error, the crew thought they were flying about 400 feet higher than they actually were. Fortunately, they managed to launch a life raft and escape their sinking plane.
Divers have never recovered the classified, atmospheric research data collected during the bomber's final flight. But then, how useful is atmospheric data collected by a crew who misjudged their own altitude by 400 feet likely to be, anyway?
Another popular dive site is a submerged aggregate plant that supplied much of the gravel used in construction of the dam.
And if you neglected to pack your scuba gear, you can always take a tour of Hoover Dam, which, at the time of its construction, was the largest concrete structure in the world.
And that's where we leave you before heading in the last 35 miles to our final destination of our road trip from Denver to Las Vegas. There, you can find a hotel room to suit almost any budget and, we're told, a few casinos if you know where to look. Ask at the desk or follow the neon signs.
Data collected from our Price Lab tool suggests that the average drop-off fee charged by all major rental companies for a one-way car rental from Denver to Vegas is $450 USD. Using MirrorTrip for one-way rentals on this route allows you to avoid this typical drop-off fee.
| Pick-up Location | Drop-off Location | Avg. Drop-off Fee | Avg. SUV Drop-off Fee | Avg. Sedan Drop-off Fee |
| --- | --- | --- | --- | --- |
| Denver | Las Vegas | $450.40 | $678.09 | $288.38 |
| Las Vegas | Denver | $464.45 | $577.05 | $242.21 |
Table showing average drop-off fees charged by top tier rental companies during 2021 and 2022.