Top things to do in Hope, BC. Eat incredible pie. Seriously.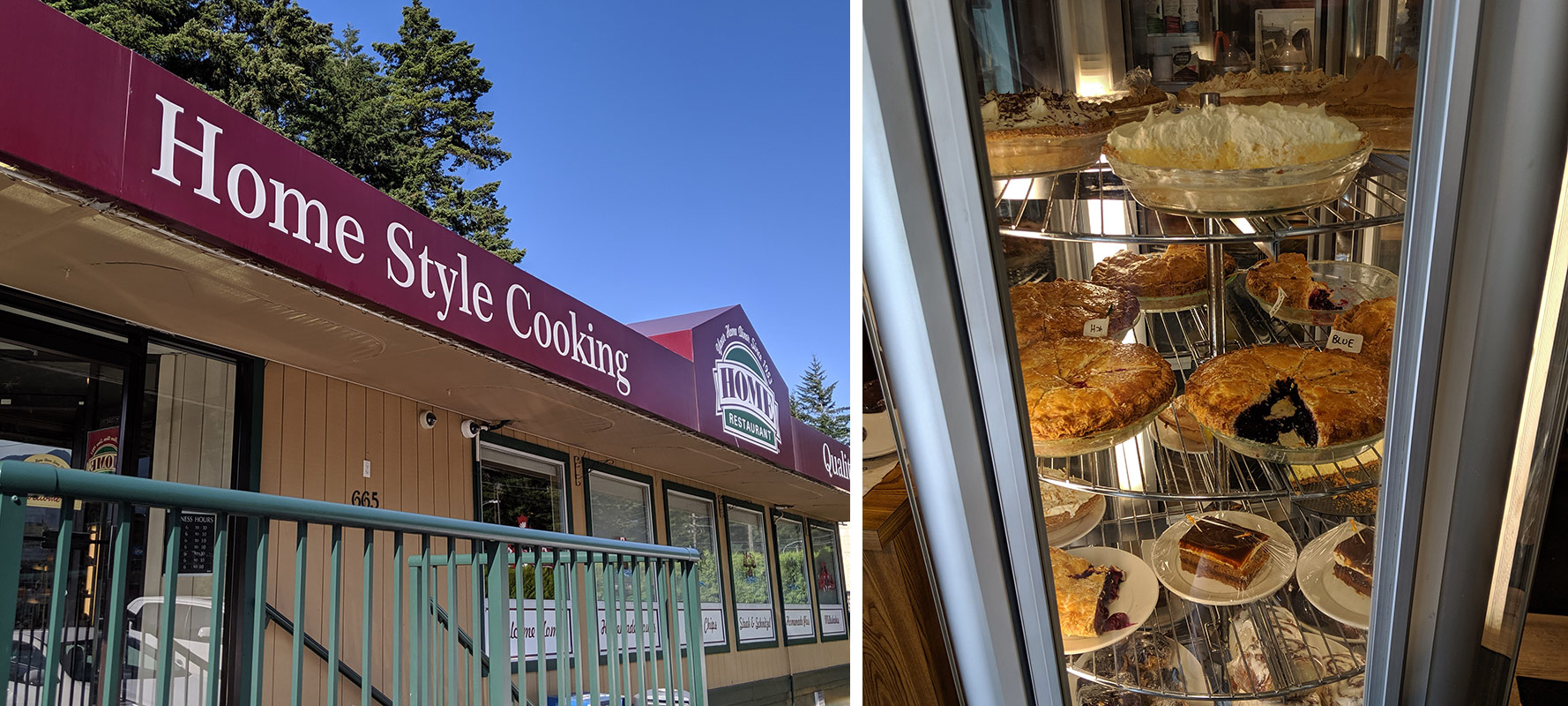 Hope, British Columbia
A look at the things to do in Hope, BC, the places to see, and the people to meet on a one-way car-rental from Vancouver to Calgary. After renting his car in Vancouver, pointing his compass East, Dave shares a delicious reason to stop along his way to Calgary.
Hope
Hope. Where we begin our long climb above the farmlands and sprawling townships of the Fraser Valley
Hope. Where the mighty Fraser tumbles from the coastal range of British Columbia to become the lazy Fraser, meandering its way across the wide valley bottom to join the sea.
Hope. Where sockeye, answering the ancient call to the gravel beds of their birth, come to their first Are you kidding me? moment. No way. No spawning way. Nope. Let go of my fin! I'm telling you, I will go back to the ocean and die a virgin first. Did you see that sign? "Hell's Gate: 70 kilometres." "Hell's Gate." Does that sound good to you? It's only going to get worse from here.
Speaking of one-way trips, just a quick reminder here that my friend Jim and I are saving hundreds of dollars on our one-way car rental from Vancouver to Calgary because we had the foresight to book through MirrorTrip.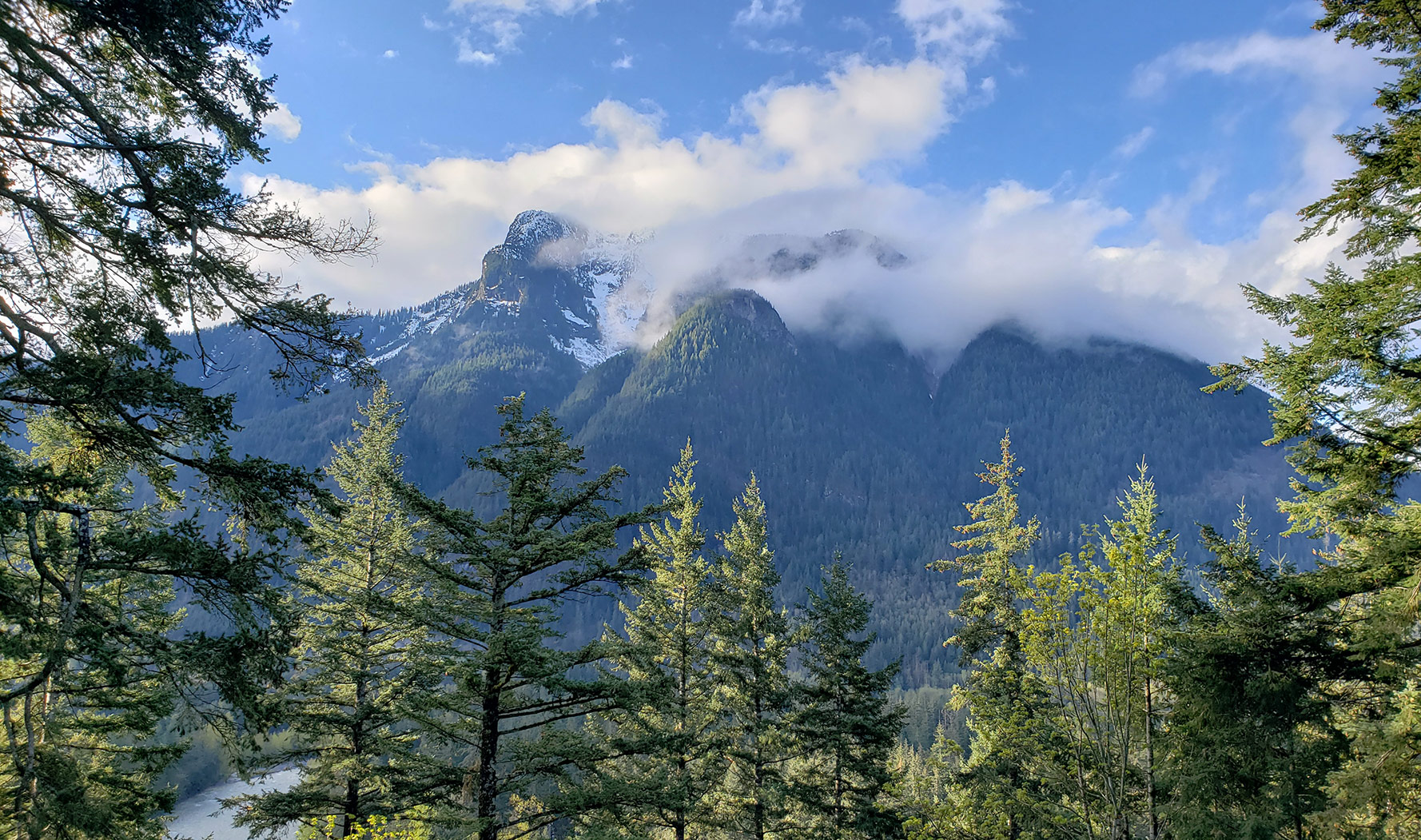 The first stop along the way is the town of Hope—as it is for so many travellers heading East from Vancouver. This is where you begin to feel as if you've put enough miles on the trip odometer to justify stopping. To get a bite to eat. To stretch your legs and take in some beautiful scenery.
And to get pie. That's because the Home Restaurant, the greatest maker and purveyor of pies in all the land, is located right here in the town of Hope.
I know, that's a bold claim. Perhaps I'm not qualified to make it. After all, have I eaten at every restaurant serving homemade pie in the lower mainland of British Columbia? No. But I have made a few pies myself. And I can tell you that the vast majority of them sold in the restaurants in the city of Vancouver are pathetic. Why such harsh words for the pies of Vancouver? Years of bitter disappointment.
It's the crusts. For the most part, the fillings in the pies I order from restaurants and coffee shops are pretty good. But the crusts? There is almost no effort, let alone ability, to make a flakey crust. Because it's hard to do. Most of the pies served in restaurants (or bakeries, for that matter) are wrapped in something akin to unbaked cookie dough. Just uniform slabs of . . . dough. I would rather go to a McDonald's to buy one of those eggroll-shaped pies that come in a little cardboard box before I order a wedge of pie from a restaurant in Vancouver. McDonald's pies are actually pretty good.
"I can see you feel strongly about this," says Jim, as we wait for our table at the Home Restaurant. "But I prefer not to have mine á la spittle. So you think you could try to calm down before they give us a table?"
"Sorry."
Looking around, I see I'm not the only one who has heard about the Home Restaurant. It's three in the afternoon and the place is packed.
But the pies of the Home Restaurant are already calling to us. In the small waiting area just inside the restaurant's is a glass display case. And in that case are pies of many kinds—cream pies, fruit pies, lattice-crusted pies, butter-crunch crumble topped pies, pies topped with gently browned peaks of meringue—tempting us to skip the main course and go directly to. . . well, the main course as far as I'm concerned.
The food here is good. But the pie is great. You can tell just by looking at a piece of it. The crust has structure. Between the flakes are spaces filled with nothing but delicious air. And the pie is tall. It didn't come out of some inch-and-a-half deep foil pan. Here's a tip for you: You want to avoid dessert disappointment? Don't ask your server if the pie's any good. Spare them that awkward moment. Just ask if it comes out of a foil pan. If she says yes, move on to the cheesecake or the Tiramisu.
But I have spoken too much of pie. And besides, it's not polite to rant with your mouth full. Of pie. What kind, you may ask? Does it really matter? There must be a dozen different fillings available at any given hour at the Home Restaurant, but most of them have the same crust. The same delicious flakey, crust.
"This is good pie," says Jim. He puts down his fork and checks his phone. "Hey. We'd better get going if we want to get this First Blood tour in."
And apparently, we do.
I flag down our waitress, who drops off a bill.
"Hey," says Jim, lowering his voice. He leans across the table. "Did you see her name tag?"
"What about it?"
"The name. On her badge: 'Adrian.' 'Aaaaadriaan!'"
"That's Rocky, not First Blood."
"'Aaaaaaadriaan. . . I dropped my fork.' 'Aaaaaadriaan! Could I get a warm-up, here?' I'll bet she gets that all the time."
"Only from people who confuse Rocky with Rambo"
"It's still Sylvester Stallone."
"Come on. We wouldn't want to be late for our tour."
Did you know MirrorTrip helps you search for an affordable one-way car rental by entering your locations and dates? If you can't find anything that suits your schedule - post your trip for others to match with; we'll let you know as soon as someone matches up with your trip.
NEXT UP: Hope: The Rambo Walking Tour