Vancouver Trip Ideas - Grouse Mountain

There's no denying that the last year or so has been challenging for the tourism industry and travellers alike. There's nothing like a couple of cancellation penalties to unravel the last remaining threads holding together your willingness to travel. Fortunately though, whilst travel restrictions remain, there are still some good opportunities to get out there and enjoy your own back yard - or someone else's if you happen to be there for necessary reasons.
So on a misty Monday May morning (mmmm alliteration), I found myself scrambling for things to do in Vancouver having just realized that my daughter's preschool was closed for an in-service day. For whatever reason, I thought of Grouse Mountain as my 3 year old daughter would probably get a kick out of a gondola ride and some grizzly bears.
My first concern was the effect of the pandemic in terms of being able to access the facility. A quick visit to the Grouse Mountain ticketing page. I was pleasantly surprised to see not only were there still some tickets available at short notice (same day), but also that there's currently 50% off for gondola tickets & children under 4 years old are admitted for free! The website worked well & buying the tickets was straightforward and easy.
No doubt this was all aided by the fact that I was visiting on a weekday - I've visited before on a weekend (granted this was pre-pandemic) and it was very busy. I even managed to snag a free parking spot on the side of Capilano road just before the entrance to the paid parking lot. Upon arrival I skipped straight past the ticket booth and showed the QR code that came with my confirmation email at the gondola turnstiles. A couple of quick scans & we were on our way, the whole process was very smooth. Unlike last time, I was not going to consider the Grouse Grind with a toddler, and a bag full of toys!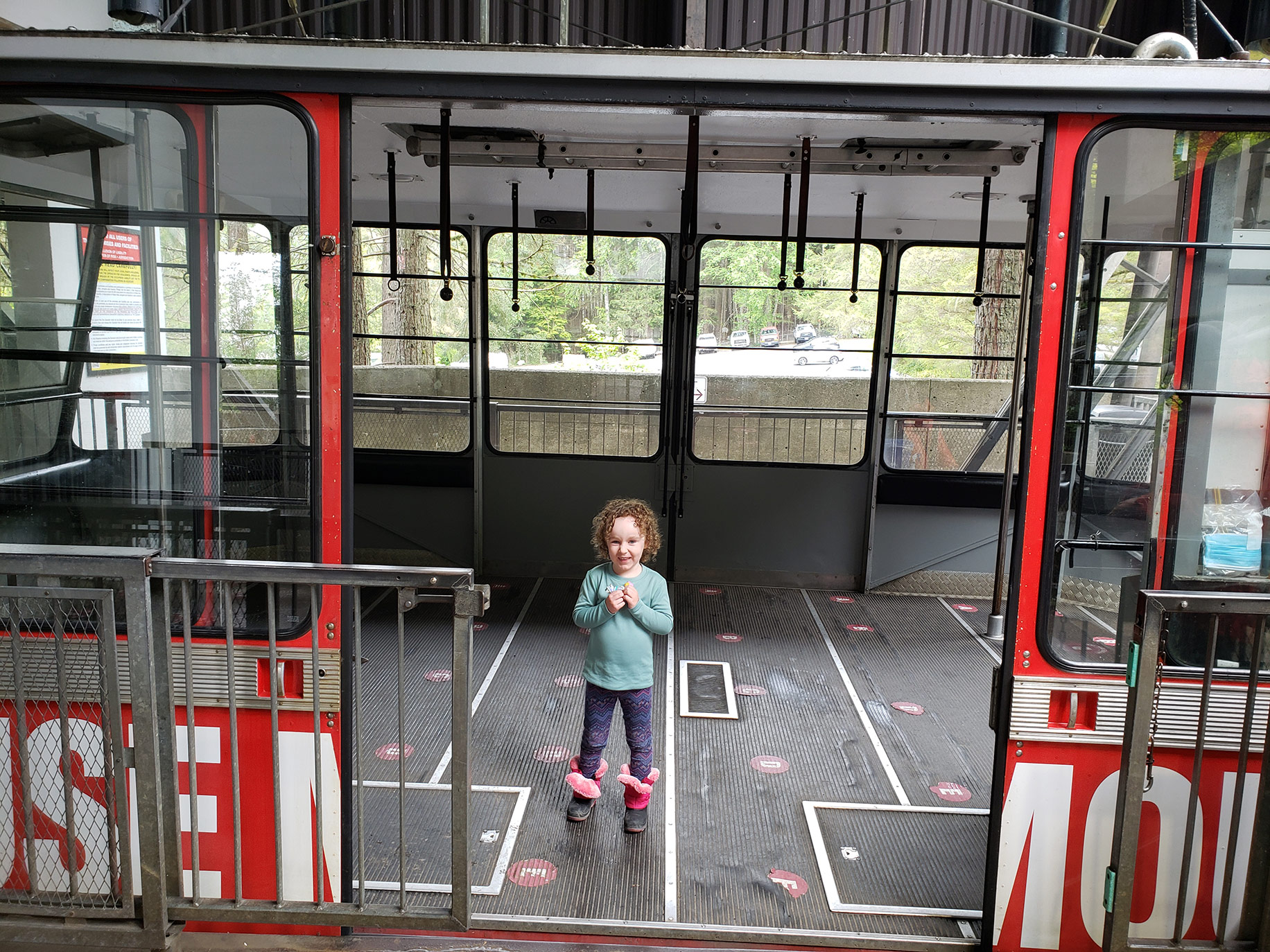 As soon as we shoved off, the gondola operator jumped right into their information session during the 6 minute journey up the mountain. Even for a local Vancouverite, there were still some interesting tid-bits, for example I was completely unaware of the location of Capilano Lake (one of the first things you see as you gain elevation), and that it constitutes a large part of the Vancouver city water supply. As the gondola drifted upwards, many more city sights came into focus. Even on a slightly cloudy day, we could still easily make out the Lions Gate bridge heading into Stanley Park, False Creek, and the Vancouver Downtown core.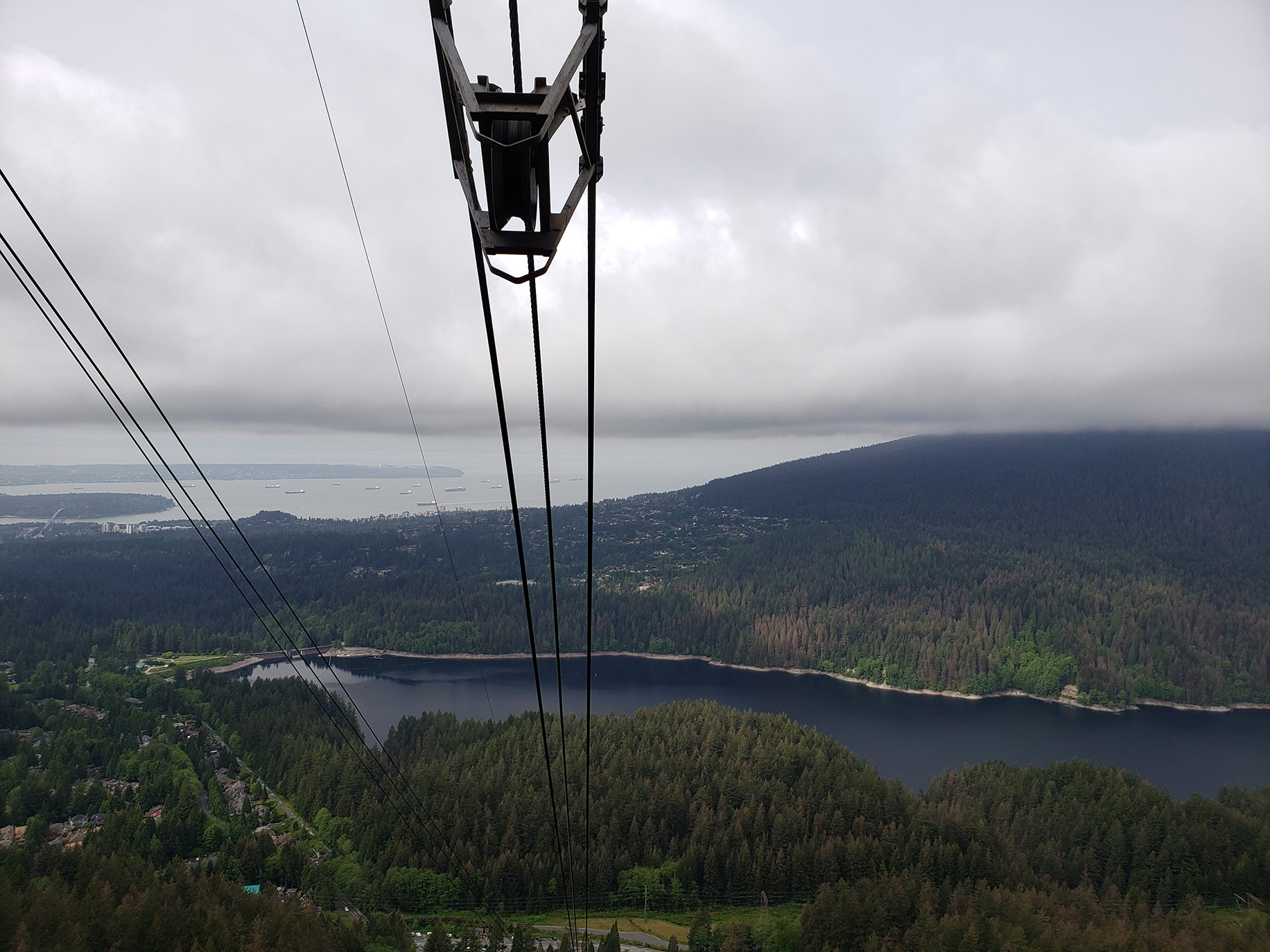 Before we knew it, after a couple of gentle sways - we were at the top! I was surprised, for mid May (a fairly warm/dry one at that) there was still a ton of snow on the ground. Not enough for downhill skiing, but enough for 3 metre snow banks along the trails we walked. For my daughter though, even the smallest patch of snow is fit for a 20 minute distraction. So after a brief delay to re-enact some of the snow scenes from Paw Patrol (a kids TV show) using my daughter's figurines, we decided to explore a little further afar.
As you'd expect it was pretty quiet up there on an overcast Monday morning. Often during busier times of the week - there's a lot more to see and do. The birds of prey show for example is definitely worth a watch if you can time it right. We did not time it right :(.. However we were here to see grizzlies! According to the gondola operator, the bears were up and about having recently woken from their 20th hibernation cycle since being at Grouse Mountain. Bear shaped paw prints painted in white lead the way from the chalet to the habitat (another fun touch when you're with kids).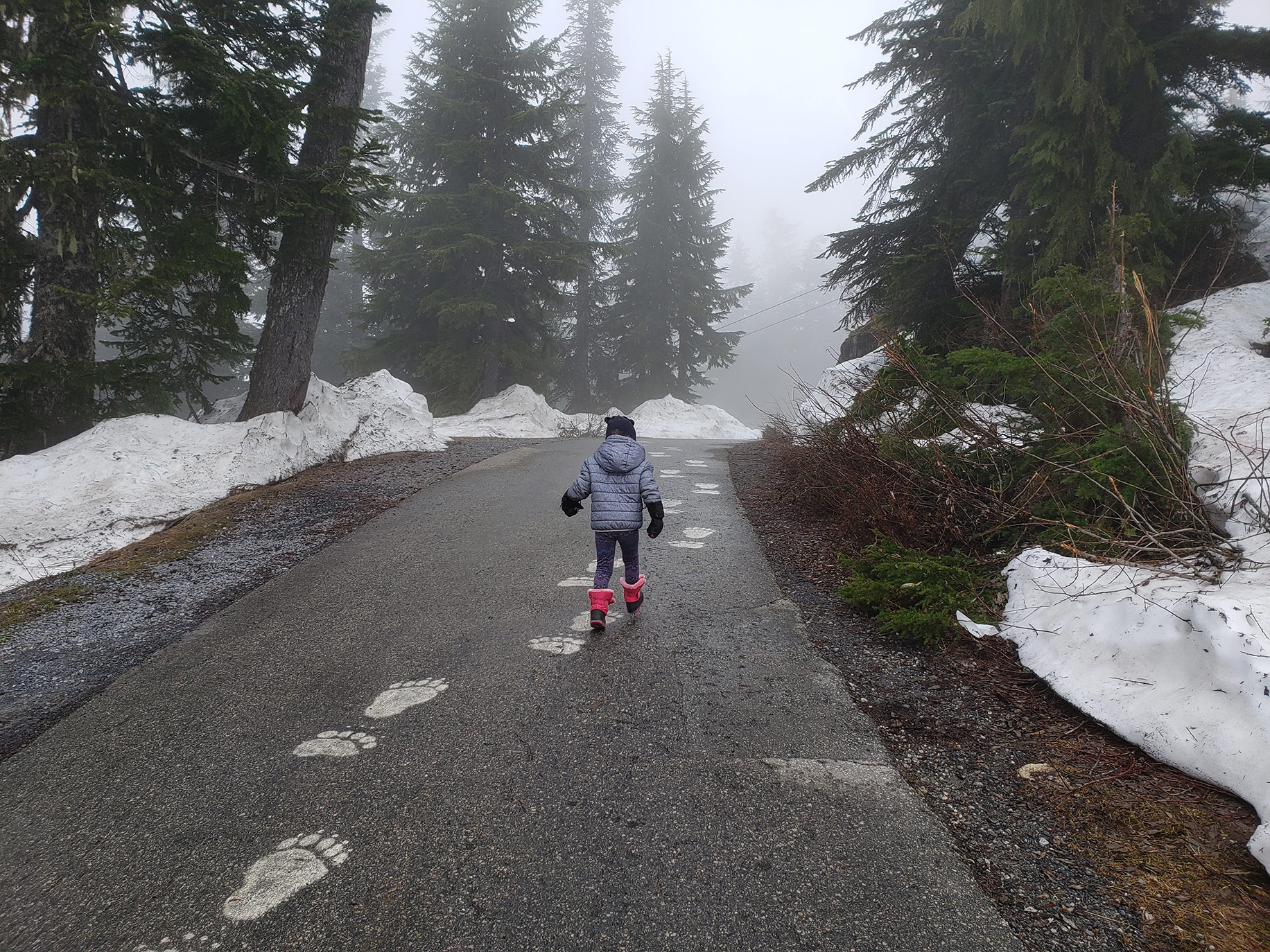 Animal attractions can be a touchy topic for many (myself included) - especially from an animal rights perspective. However given their backstory - it's comforting to know that the two bears Grinder and Coola, were essentially rescued having been orphaned from their mother who died when they were young. The long walk to their habitat gives you an ample sense of the size of it - a reported 5.5 acres. Having recently participated in the Vancouver housing market - you might say I was a little jealous.
After a decent stroll, and a bathroom break we arrived at the habitat and it didn't disappoint! Right on cue, the bears were both there. The whole experience was rather mesmerizing. My daughter was probably the quietest she'd been all day (perhaps year). We just stood in silence and watched. One of the bears came as close as 2 or 3 meters away and quietly sat and watched back at us for a minute or so, the other seemed to prefer more privacy, gradually moving further away each time we moved. These creatures are magnificent, with their thick coats, enormous claws, and pausing to intermittently puff some air and show their gums and teeth. At no stage did they seem agitated or anxious - I felt a genuine connection with nature.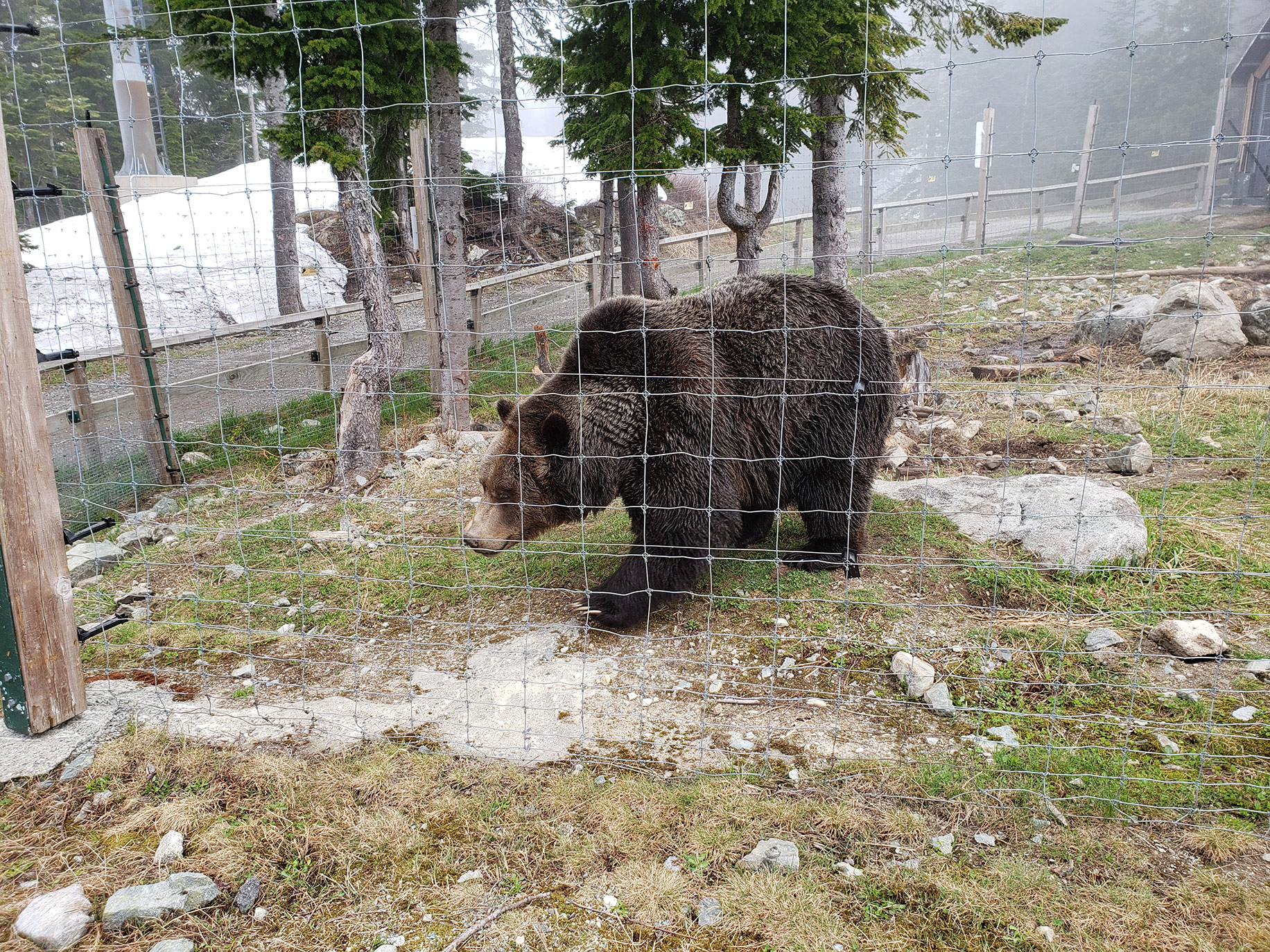 After 5 minutes, jaws open (not that we were about to win the jaws open contest anytime soon) - we decided to move on and give the bears some privacy & head back to the chalet (after stopping to re-enact some more Paw Patrol scenes in another snowbank of course). We took a quick stop at the gift shop to peruse gift ideas for out of town relatives, and then headed back to the gondola where we downloaded with a series of small groups who had clearly just done the Grouse Grind.
For the grand total of $29 (one adult and one 'tot') I would highly recommend a mid-week trip up Grouse Mountain as a great Vancouver boredom buster, and also to support your local tourism industry. According to the staff, gold passes are still on sale and the 50% discounted general admission is compelling. The whole outing was easy to book, and we were met at every turn by friendly, informative staff. My advice is make the most of these offers while you still can!