Car Rental - The Deal of the Century!
Tips
September 20th, 2019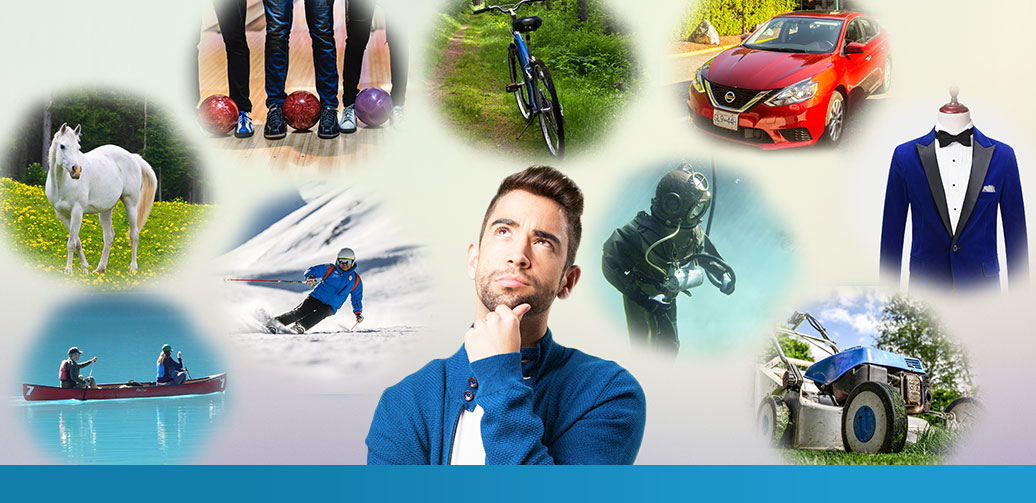 The costs can mount up when you're renting a car. After insurance and all those mystery taxes, it's hard to walk away from the rental counter for less than $60 a day. It's even more during the summer high season. Sixty dollars a day, you say--that's outrageous!
Ah, but have you tried renting anything else, lately? And I mean anything.
Let's look at some of the other things that people tend to rent—just for comparison—and see if car rental is all that bad.
Suppose that you're renting that car to drive from Vancouver to Banff to attend a wedding. You don't want to arrive looking like some kind of pauper. After all, you've already gone to the expense of renting a Chevrolet Malibu. Why blow your image as a big tycoon, now? Better rent a tuxedo, too.
That's going to set you back about $200. And what does it cost to buy a tux? A bargain-basement fitting starts at $400. That's right. To rent a tuxedo, you've got to pay about half the price of buying a cheap one outright! Now that's outrageous—and a clear sign that your mother was right: You're throwing away your life as a neurosurgeon; you should've gone into the tuxedo rental business like she said.
You may think that I've just cherry-picked the world's worst rental rip-off to make my point. Surely there are other rentals that are a better deal than tuxedo rental.
Let's say that the plan for the day after the wedding is for everyone to go skiing. But you don't own skis, so you're going to have to rent those. What's that going to cost you? About $35 for the day. But if you want the whole package (skis, boots, poles, goggles) you're probably looking at more like $50. So what would it cost if you were to purchase all of these items? You're going to have a hard time getting out of the store for under $1000. That's for some pretty basic equipment.
So renting those skis for a day will be about five percent of the cost of buying them. Not bad value—especially compared to renting that tuxedo.
But look at the comparative bargain you're getting for car rental: You're paying roughly the same amount (about $50 for the day) for your Chevrolet Malibu. The manufacturer's suggested retail price plus taxes for this car similarly outfitted to one you'd rent in Canada is just shy of $24,300. So you're getting your one-day rental for just one quarter of one percent of the purchase price of the brand new car. And if you rent from a reliable company like Hertz, no part of your rental package will smell like someone else's feet.
All right, let's say you've decided to blow off the post-wedding ski day. You're hung over and you've just remembered that you don't ski, anyway. Instead, you're going to fly straight home (a real option if you've done the smart thing and driven to that wedding in a one-way rental from MirrorTrip). [PS. Take a look here if you want some great tips on cheap flights]. Then you're going to put a dent in all those chores that have been piling up around the old homestead.
Start with the lawn. How much to rent an electric push mower for the day? Thirty-seven bucks. Finally, something you can rent that's substantially less than renting the car. But what would it cost you to buy that lawnmower? About $580.
So the cost of renting a lawnmower for a day is roughly six percent of the cost of buying one new. Not bad. Probably our best bargain, yet. But still nowhere close to the deal you're getting when you rent a car.
Starting to get the picture? Here's a list of some other items that people commonly rent and a comparison of their purchase and rental prices:
| Rental Item | Cost of Day Rental | Purchase Price | Percentage of Purchase Price |
| --- | --- | --- | --- |
| 17- foot runabout (with outboard motor) | $590 | $45,000 | 1.3% |
| Impact drill | $40 | $250 | 16% |
| Horse | $300 | $4000 | 7.5% |
| Scuba Gear | $100 | $2700 | 3.7% |
| Canoe | $60 | $1200 | 5% |
| Bowling Shoes | $4 | $40 | 10% |
| Full size Rent a Car (Chevrolet Malibu) | $50 | $23,000 | 0.21% |
Surprisingly, the 17-foot open boat with motor is the next-best bargain to car rental—but it's still not even close. It seems that, in general, the lower the purchase price of the item you rent, the worse the deal.
The take-away from all this? Car rental is the deal of the century. And when you consider that what you pay to rent a vehicle through MirrorTrip for a long-distance, lets say a full size car rental Vancouver to Banff, covers depreciation from engine, transmission and tire wear, minor dings or chips from gravel hits, oil and other fluid changes, even cleaning the car—all the things you'd eventually have to pay for if you were to use your own vehicle—renting is looking even smarter.
According to the British Columbia Automobile Association's on-line calculator, the total cost to drive your own Chevrolet Malibu from Vancouver to Banff (excluding fuel) is about $330. Renting a car for the same drive: can be as low $50 per day if you use MirrorTrip. So if you're asking yourself, "What are some inexpensive methods to traveling?", all and all, you'd have to rank car rental up there - even if you own your own car.
The other thing I learned from researching this article? If you're going to wear a tuxedo more than twice over the next decade, buy one.