Car Rental - What are some tips to save money while traveling?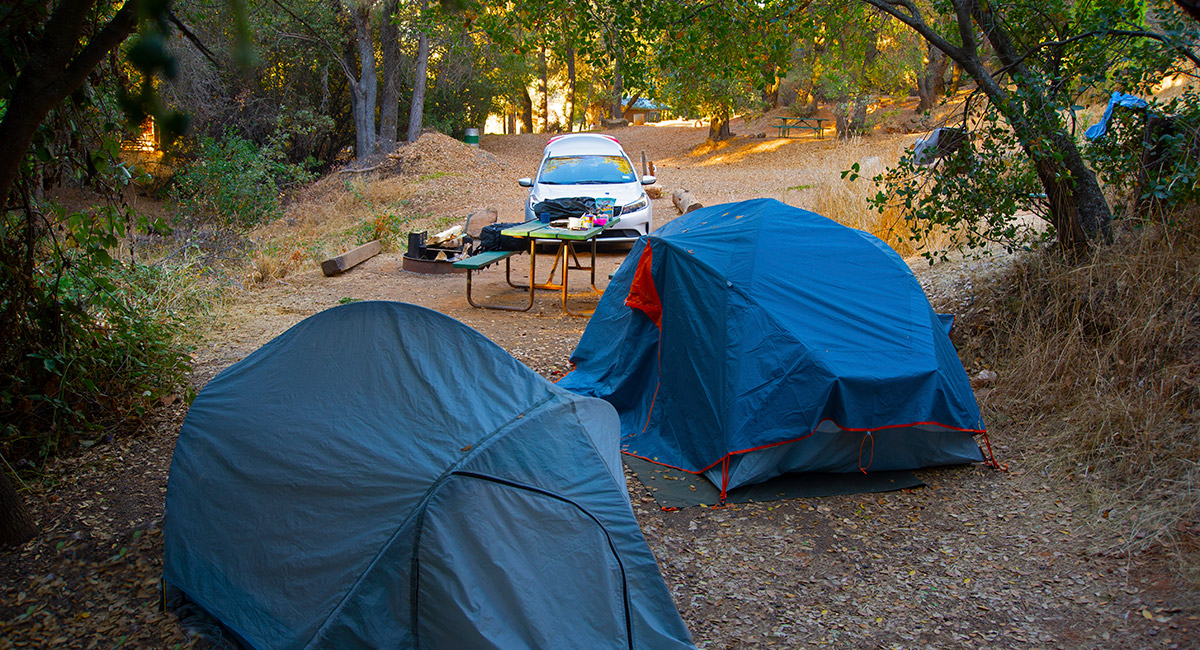 Sometimes people ask me "What are some tips to save money while traveling?" or "What are some inexpensive methods to traveling?". When I answer with "Camping" I tend to get one of two responses—equally emphatic:
Camping . . . ? When can we go?
These people picture sleeping under a sky filled with stars beyond counting. Crackling camp fires. Silences broken only by the whirring of crickets or the dawn chorus. Roasting marshmallows on a stick they've sharpened using that Swiss Army knife you're finally putting to proper use. Spotting satellites and meteors streaking through the night sky. Scary stories told around the dying embers of the fire. Squirming into a cold sleeping bag which slowly warms to their body.
Camping . . . ? Why would we go?
Why would you deliberately deprive yourself of all the comforts of modern living only to replace them with 1) swarms of blood-sucking insects. 2) A camping mat that makes you long for your pillow-topped, memory-foam mattress at home while your back takes a living cast of every rock and pebble you failed to clear from beneath your tent. 3) A tent whose floor is canted like the foredeck of the HMS Poseidon. After it capsized. 4) Having to dress yourself in the middle of the night and follow a shrinking, yellow pool of light into a black void—because you couldn't quite make it to the spider-infested outhouse before your flashlight batteries failed completely. 5) Lying awake for 20 minutes before your ill-fated trip to the outhouse in the vain hope that you will just fall back to sleep and put off peeing until morning. As if this has ever happened. 6) Trying to decide whether the grunting just beyond your veil of nylon is a) a grizzly looking for one last, good meal before settling into hibernation or b) a moose in rut that has taken your friend's snoring as a territorial challenge.
And the answer to all of these questions is, the money you save. Love it or hate it, camping can mean the difference between a long road trip and a short one.
You can rent a compact car for a whole month for under a thousand dollars. Choose your ride wisely, and you might keep fuel costs for that trip to under $500. But you will be hard pressed to stay in motels or even Airbnbs for a month for much less than $3000—even in the off season. Sleeping indoors for under $100 a night almost anywhere in North America has become a challenge. But even if you can find cheap hotel lodgings, you're probably going to eat any cooked meals in restaurants, which is the other major budget breaker.
Of course, if you're travelling with a partner or friend who can share the costs, staying in a hotel becomes much more affordable. But for a frequent solo traveler like me, camping at least four or five nights a week is what makes longer road trips possible.
When car camping, suitcase weight and number become much less of a consideration. You can load up your vehicle with many of the conveniences that will make camping comfortable even for people who aren't particularly keen on it—things like a propane stove with a couple of burners, a deep inflatable mattress, solid cookware, propane or LED light source for the falling light during those shoulder seasons. A larger tent, if you prefer. A cooler to keep food refrigerated for several days. A full-sized pillow. In short, all the luxuries extras that would be out of the question on a backpacking or even an airline trip.
Of course, if you're doing a one-way car rental through a service like MirrorTrip (But let's face it, there really are no other services like MirrorTrip!) and, say, flying back to your starting point—then you'll obviously have to pack bearing airline baggage restrictions in mind. Airlines tend to frown on transporting items like full propane tanks.
And if for some reason you feel unsafe sleeping in a tent, if you've chosen your rental vehicle wisely, you may have the option of sleeping inside it. This is especially practical if you're not tall. You just need to rent a hatchback whose rear seats fold flat, or very close to it. I know people who are able to sleep in a rental car's fully reclined front seat, but I'm not one of them. Those seats never seem to recline far enough for me to get comfortable.
In my opinion, a bigger sleeping space is one of the few good reasons to rent an SUV or crossover. The tradeoff is that you'll almost certainly pay more for gas driving one of these vehicles for a month than you will on an economy car.
It would be nice if there were some way to tell if your rental vehicle has a robust battery or LED dome lights that don't consume much power so that you can spend a little time reading or listening to the radio, (or maybe even watching a video if your vehicle is so equipped!), before you hit the sleeping bag. But those features are just the luck of the draw. Better to rely on a good headlamp for reading after dark (and away from the mosquitoes) if you want to be sure of starting your engine the next morning.
A rental car provides good bruin-proof storage for food when you're camping in bear country. It's also pretty good at keeping out rodents and other vermin, although I now check the engine compartment before starting out from a campground. One morning, while car camping with a rental car in Arizona near the Grand Canyon, I started out for the day but made it only a few miles before smoke began billowing from the grill and hood of the car. After stopping and opening the hood, I discovered that a rat (or some other rodent) had constructed a nest on the manifold during the night. The twigs and grass caught fire once the engine heated up. Presumably, the builder abandoned his project as soon as I turned the key in the ignition.
But up until that moment, he and I both received a great deal in comfortable accommodation for another day on the road, courtesy of a rental car.