MirrorTrip COVID-19 Service Updates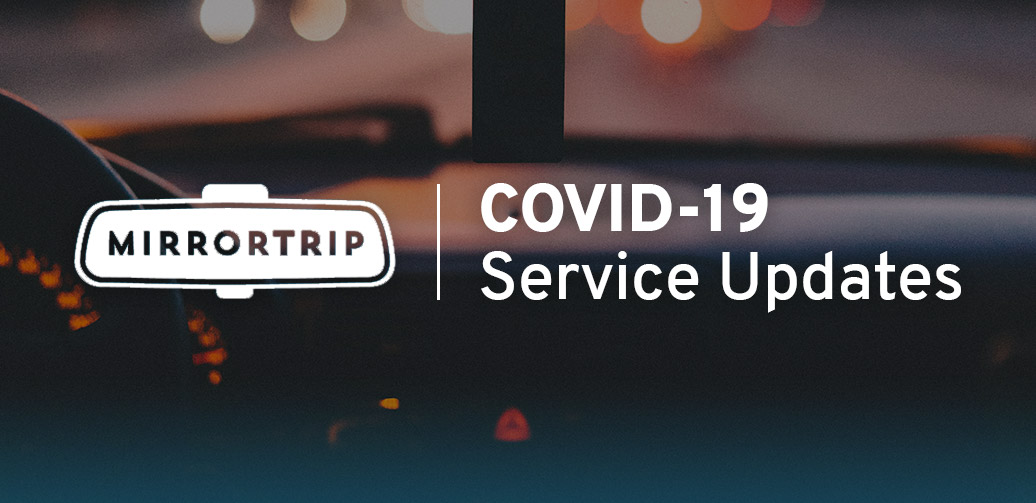 I will be brief, as I know there is a lot of communication on this topic already. We do not want to incentivize or encourage unnecessary travel during the COVID-19 pandemic, and defer to the guidelines of all local and governing bodies that are applicable to you. Here are the pertinent facts relative to MirrorTrip.
The MirrorTrip service remains fully operational for the following reasons:
The online aspect of our service (scheduling, payment, customer support etc..) obviously isn't affected by the pandemic
Our main vendor partner in Western Canada (Hertz) has adapted their service offering in the following ways (paraphrasing from their Global Executive Vice President):
"In addition to practicing preventative measures to reduce the spread of germs within our facilities, all our vehicles go through a rigorous, multi-step cleaning process for each rental. We are remaining vigilant in upholding these practices and are taking additional precautions in specific geographies as recommended by the Centers for Disease Control & Prevention (CDC), World Health Organization (WHO) and local governments to minimize the risk to our customers and employees"
Hertz is also offering "Enhanced services in our neighborhood markets, including Car Delivery"
Whilst I'd like to re-emphasize that the last thing we want to do is incentivize unnecessary travel during the pandemic, we also recognize that compared to other options MirrorTrip is likely a safer alternative for travel which is deemed necessary. This is the final reason that we've chosen to continue operations for the foreseeable future.
Regards,
Reece Griffin
CEO of MirrorTrip