How to save money - one way car rental BC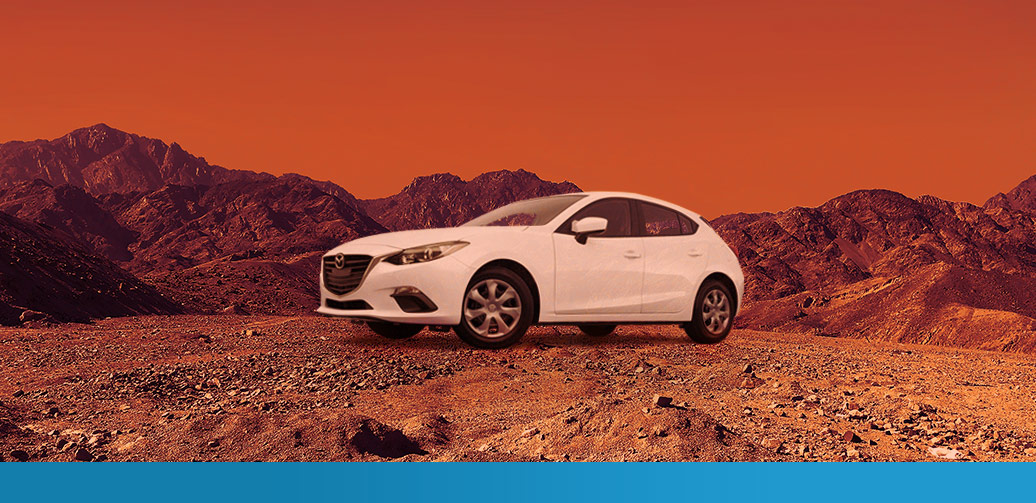 Remember Mars One Ventures? The Dutch company made headlines back in 2012 by promising to take people to Mars. They were going to colonize the red planet.
What qualified them to embark on this bold venture? On the face of it, they had no special expertise, no real financing in place, no invention or technology that gave them any kind of edge in the field of interplanetary travel. But they did have an original twist to their daring plan: No one qualifying for the trip would be returning. Guaranteed.
That's right, the successful applicants would not only be the first human beings to reach Mars, they would live out the remainder of their lives on the red planet. Just how long that would be was never specified. A panel at MIT who studied Mars One's plans concluded that most of their customers would be lucky to last two months. In short, Mars One promised their clients the longest (at least in miles) one-way trip in human history.
What would the cost be for a one-way car rental in Canada?
While most car-rental agencies stop short of condemning their customers to a slow death on a barren and airless world, they do exact some stiff penalties for one-way travel. These charges usually take the form of what they call drop-off fees. Here's a list of some typical charges for renting a car in one city, and dropping it off in another:
| Starting Point | Destination | Total daily charges for four-day rental | Drop-off Fee |
| --- | --- | --- | --- |
| Vancouver, BC | Edmonton, AB | $214 + taxes | $365.64 |
| Victoria, BC | Calgary, AB | $208 + taxes | $324.18 |
| Prince George, BC | Victoria, BC | $208.00 + taxes | $500.00 |
As you can see, conventional one-way travel by rental car comes at a premium price. But there are ways to avoid the dreaded drop-off fee even if you don't want to return to your point of origin.
Drive Someone Else's Car
Suppose you want to drive from Vancouver to Calgary, never to return. You don't own a car, and you don't want to pay a car-rental agency's usual drop-off fees. You might be able to do what is known as a "drive away." This is where a qualified driver (that's you) is enlisted to drive a vehicle between cities—usually returning the vehicle to its owner, who may have had to return home by some other method for any number of reasons—illness, emergency, or just a sudden loss of interest in driving the same road twice.
Canada DriveAway and HitTheRoad.ca are two agencies that mediate these kinds of drives. The catch is that these firms can be quite picky about whom they allow to drive their clients' cars. Even so, there are usually more drivers than vehicles available.
Also, the vehicle returns tend to be on a pretty tight schedule, which doesn't leave their drivers a whole lot of time for sightseeing. On the plus side, your gas may well be paid for by the driveaway company.
To qualify, you'll have to supply the agency with an official driver's record, personal references, proof of recent employment or enrollment in a post-secondary school of some kind, and other paperwork—and then they may or may not call you. Also, your driveaway usually ends at the home of the car owner, which may not be exactly where you wanted to go. Some companies only allow one additional passenger on the driveaway.
The drive-away solution is probably for the more flexible, budget traveller. Oh, and you'll need to post a deposit of as much as $500 (which will be returned to you on safe delivery of the vehicle).
Go Against the Flow
At certain times of the year, car rental agencies experience mass migrations of their fleets. This is because drivers have paid for one-way drives, resulting in an accumulation of cars in the city with the more inviting weather at that time of the year. Or, the car rental companies may truck their cars in bulk to the more popular location to accommodate the increased customer traffic during their high season.
But if you happen to be traveling against this flow, the rental company may well forego the normal drop-off fees. The catch to this money-saving option is that you may find yourself driving from San Diego to Prince George. In February.
Turn Your One-Way Trip into a Round Trip
By far the easiest solution for people wishing to rent a car for a one-way trip is to book their vehicle rental through MirrorTrip. MirrorTrip matches drivers wanting to travel the same route, but in opposite directions. Simply go to the MirrorTrip website, enter the dates for your trip, starting and destination city, and check to see if there is a match for you—i.e., someone who needs to rent a car going back to your starting point. You don't need to even meet this other driver. You will pick up and drop off your car at the rental outlet just as you would for any other car rental.
The best part is that neither you nor your "mirror" driver is charged a drop-off fee.
Conclusion
It's pretty clear that, left to their own devices, the major car rental agencies are doing their best to discourage renting out their vehicles for one-way trips. This is because returning a car to its origin point is expensive for them, and their rates are already at bargain-basement levels. Or maybe they regard what happened to Mars One Ventures, a company that specialized in one-way travel, as a cautionary tale: On January 15th of this year, the company went bankrupt—to no one's surprise.
But it wasn't for lack of interest in one-way travel. Over 200,000 applicants from all over the world expressed a willingness to journey from Earth to Mars, never to return. More likely, Mars One Ventures failed because their would-be investors doubted that the company could ever deliver anyone to the promised planet.
Fortunately, one-way travellers willing to confine their trip to this continent have some safer and far more reliable alternatives available to them. With a little planning, you can drive one-way, without the drop-off penalty.
Tags: one way car rentals no drop off fee, car rental without drop charge one way, car rental without one way fee, Hertz one way rental canada